Since 2020, Chinese big tech has been hit by sweeping regulatory crackdowns. These are fueled by Beijing's desire to align national goals, public interests & technology development. Let's go through the 5 key areas of the China crackdown:
1) Antitrust Regulations Triggered By Misuse Of Market Power
Since 2020, regulators are taking aim at some bad behaviour on the part of big tech. China has taken some swift regulatory actions targeting the monopolistic behaviour of the country's biggest internet companies.
Giants like Alibaba & Tencent have been slapped with penalties as new antitrust guideline was issued and investigations were initiated. Following this, the share prices were notably hampered as the government reined in the Chinese tech giant's power and influence.

Big Tech's misuse of market power served as a trigger in this case. The top players in various sectors controlled over 80% of the market share. Alibaba, Meituan & Didi Chuxing have been singled out by regulators with separate antitrust probes.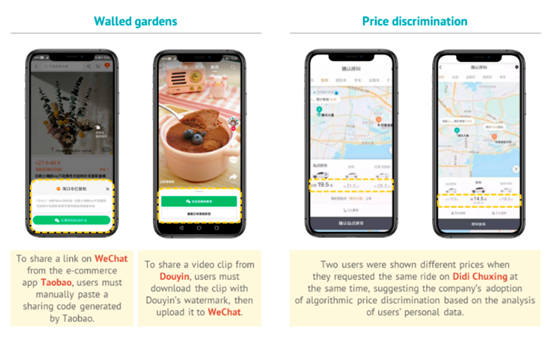 As a direct result of high market concentration, the big players began adopting unfair practices – such as price discrimination & walled gardens – against business partners & consumers. To regain market control & protect consumer interests, Chinese authorities have ramped up the pressure. China's super app WeChat has now allowed more direct links from competitors as a result of this pressure.

2) Fintech Regulations & The China Crackdown Impact
Around the same time as its antitrust push, the government rolled out a series of measures to rein in the country's fast-growing Fintech sector as well. The Ant Group has borne the brunt of these actions, but other internet giants which operate sizable fintech businesses are also facing far-reaching implications. The entire fintech landscape in China is set to be reshaped.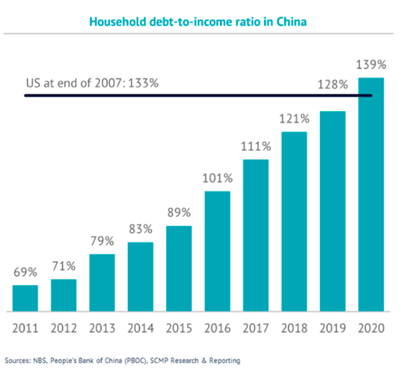 Rising leverage and systemic risk concerns in the financial system has prompted actions. China's debt to income ratio has shot past the precrisis level in the US.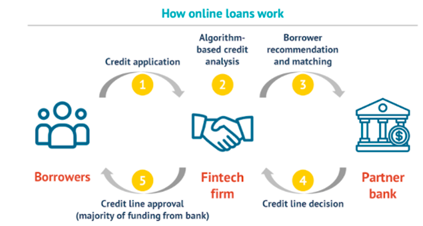 Fintech's facilitation of large amounts of loan, without bearing the associated risk has alarmed regulators. These regulators are also worried about over-reliance on algorithms, lack of collateral for such lending practices & cybersecurity.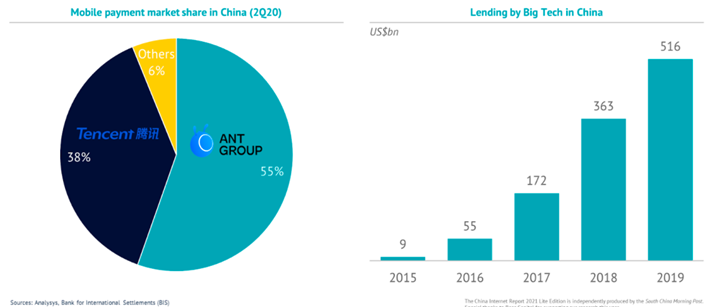 The Chinese government is also worried about fintech's information monopoly. Tencent & the Ant Group claim over a 90% share in China's mobile payment market. This gives them direct access to vast amounts of consumer data. This could allow them to induce overspending, which inturn leads to loan defaults and coercive collection. It must be noted that these tech giants have a poor track record of consumer privacy protection.

3) Cybersecurity Probes
In July 2021, the cybersecurity administration of China (CAC) launched probes into 3 new companies listed in the US, citing the CSL, the National Security Law, and the Measures for Cybersecurity Review. All 3 companies, Didi Chuxing, Full Truck Alliance & Boss Zhipin, were ordered to suspend new user registration pending future approval. Didi Chuxing saw more than 25 of its apps removed from the country's app store.
These were the first probes into tech firms on the grounds of national security. The CAC also proposed new rules that would subject the data of 1mn or more users to a cybersecurity review, if they plan to list overseas.
4) China Crackdown – Data Privacy
Despite the fact that China has previously lagged the EU & the US on data protection, legislation progress is now accelerating. Public concern on data privacy among rising privacy violations and the authorities growing unease have prompted this acceleration. In June 2021, China passed the Data Security Law (DSL), while the personal information protection law (PIPL) is also expected to be finalised by the year end.
After the CSL, China has gone on to formulate the other 2 pillars of its legal regime on data protection- The DSL & PIPL. These were formed to address growing concerns on national security & privacy violation related to personal information. These laws have taken inspiration from the EU's GDPR, as well as having their own distinctive characteristics.
Without empowering individual data ownership, the world would have to choose between overly powerful regulators or overly powerful tech giants. Starting to empower the individual is a step towards creating a safe, inclusive & overall good digital society in China.
5) Cryptocurrencies At Odds With China's Goals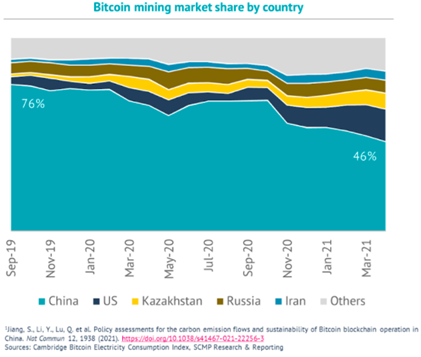 China had made the creation (via initial coin offerings) and trading (on public exchanges) of Cryptocurrencies illegal since 2017. The government however did not tighten scrutiny over Bitcoin mining in the country until this year. The government started to crack down on bitcoin mining, with authorities of the largest Bitcoin mining regions shutting down operations. The price of Bitcoin was sent tumbling and miners were forced to relocate out of China.
The heightened pressure has also come amid China's 'growing green' ambitions. China aims to reach peak emissions by 2030 & carbon neutrality by 2060. Before the crackdown, China claimed 46% of the world's Bitcoin mining which consumed a great amount of electricity. The government is also concerned that the volatility and speculative nature of Bitcoin could also create disruptive spill overs into society. The potential ability of decentralized cryptocurrencies to circumvent its capital controls raises alerts.
Are these new regulations making you rethink your Chinese business strategy? Digital Crew is a Chinese marketing company that can help set your business on the right path, in the light of the China crackdown. Get in touch with us today.