As we bid 2021 adieu, I wanted to take a few minutes to glance back at some highlights, new regulations and some key events of the year. These are major developments that will give you a peek into the future as well, and help you better understand where the Chinese market seems to be headed next year.
So, did 2021 prove to be pivotal for businesses in China? Here are 4 points to sum up this rollercoaster of a year –
1)China New Regulations Taking Aim At Big Tech
Since the second half of 2020 – well into this year, Chinese big tech has been hit by sweeping regulatory crackdowns. These are fuelled by Beijing's desire to align national goals, public interests & technology development.


Giants like Alibaba & Tencent have been slapped with penalties as new antitrust guidelines were issued and investigations were initiated. As a direct result of high market concentration, the big players began adopting unfair practices – such as price discrimination & walled gardens – against business partners & consumers.
Public concern on data privacy among rising privacy violations and the authorities' growing unease, have prompted an acceleration in legislation. In June 2021, China passed the Data Security Law (DSL), while the personal information protection law (PIPL) is also expected to be finalized by the year-end.
This year, the government also started to crack down on bitcoin mining, with authorities of the largest Bitcoin mining regions shutting down operations. The price of Bitcoin was sent tumbling and miners were forced to relocate out of China. Click here for a much more detailed look at the multiple new regulations passed this year and their effects.
2) Expansion In Southeast Asia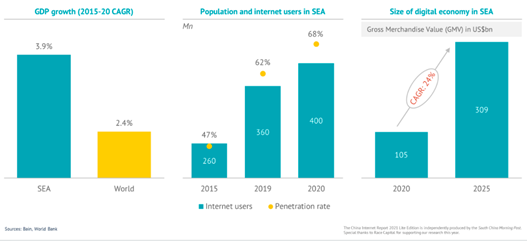 Facing headwinds in overseas markets, Chinese tech companies have started looking elsewhere to expand. China's big tech has been present in South East Asia for over a decade, but in 2021 there is a renewed focus on the region, with Singapore becoming a favoured location for regional headquarters.

In 2021, Alibaba announced that it plans to invest US $1bn to expand its cloud computing arm 'Alibaba Cloud' in SEA. Bytedance was reported to be hiring hundreds of engineers & senior managers in Singapore for Tik Tok, Lark and other businesses. Read more about China's plans for overseas expansion in our blog
3) China's Underserved Segments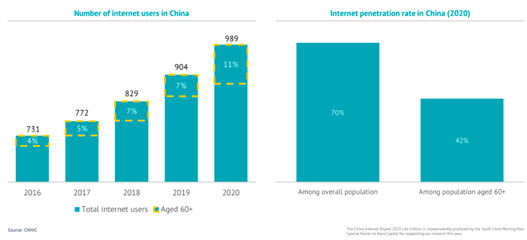 China's demographics are quickly changing, creating new markets this year to compete over. The silver economy, the sheconomy and sinking markets are 3 of the most heated and underserved battlefronts. Read more about these markets here.
4) Private Domain Traffic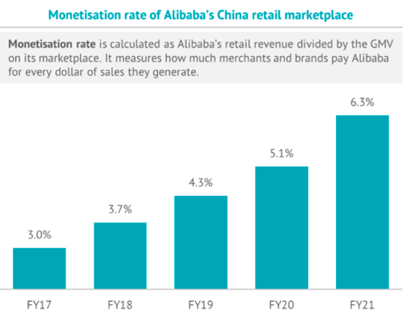 E-commerce brands have relied on paid ads offered by platforms to acquire and re-target customers. However, slowing growth has pushed up the cost of customer acquisition.

As a result, brands are now paying more attention to private-domain traffic, as they look to build direct communication channels with customers and engage them to drive repeat purchases. Read about it in our blog.
What do the next couple of years have in store for both domestic and international markets?
"By 2023, social commerce will account for a fifth of all online sales in China." – Business of Fashion
"More than $413 billion of goods will be sold through social e-commerce in China by 2022." – Bloomberg
"Chinese consumers are set to contribute almost two-thirds of global growth in luxury spending by 2025" – McKinsey
"Online luxury sales to grow by up to three times the current market size, to account for an eighth of China's 1.2 trillion RMB luxury market by 2025." – McKinsey"
By 2023, retail e-commerce sales will represent 63.9% of total retail sales." – eMarketer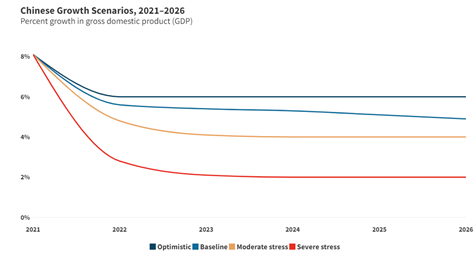 To Summarise
Thus, we see that this year witnessed sudden changes to the market as the government adjusted its socioeconomic policy priorities. A slew of new laws and China's new regulations were introduced at short notice, presenting multiple compliance risks but also opportunities. Keep track of the recent developments to fully grasp the nature of the trends that will shape the business environment in 2022. Also, to create a strong presence, you need to focus on 4 digital marketing trends in China right now and figure out which ones make sense for your business:

– KOL Livestreams
– WeChat Mini-programs
– Short video marketing
– Brand promotion in Esports

At Digital Crew we are well versed with the modern Chinese consumers and these various digital trends in 2021. So, we have your marketing and social media in China covered.