Weibo marketing campaigns provide numerous options for your company to successfully enter the Chinese market. Regardless of the success of WeChat and Douyin, Weibo still remains one of China's most popular social media platforms.
Weibo, is frequently compared to Twitter. It began as a comparable platform but has since evolved into its own entity. It is now frequently compared to a hybrid of Twitter and Facebook, as it incorporates features from both sites.
As a result, establishing a Weibo marketing strategy is a terrific way to reach Chinese consumers exactly where they are.
The Pandemic & Weibo
Weibo's standing had worsened over time, with many idle 'zombie' users. However, due to the pandemic, the platform has come to life, and has become a permanent feature in people's daily lives once more. This is due to the rapidity and propagation of Weibo's news and trending topics during the COVID-19 outbreak. No other platform in China could compete.
Throughout the pandemic and intense lockdowns, numerous media sources worked 24 hours a day on Weibo, releasing a total of 2.28 million epidemic-related posts, which generated 300 billion views. They also transmitted over 10,000 livestreams of epidemic news conferences from around the world. The number of live viewers for these events surpassed 3 billion.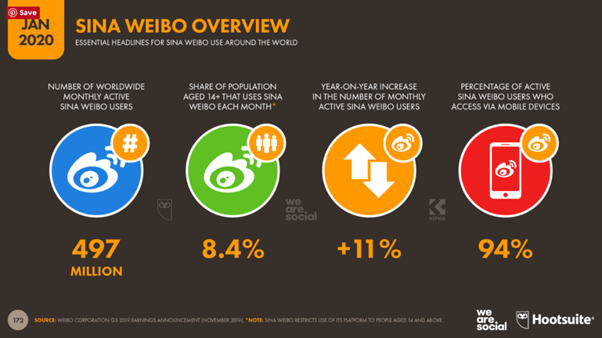 Weibo had around 520 million monthly active users (MAU) and 230 million daily active users as of November 2020. People aged 16–30 make for 80 percent of the Monthly Active Users, and more than half of them live in third and fourth-tier cities (and even smaller).
Weibo currently has over one million recognized content contributors covering subjects in 55 categories.
Weibo Marketing Campaigns – Key Target Sectors
• Entertainment
• Gaming
• Beauty
• Fashion
• Education
• E-commerce
• Travel
Types Of Weibo Marketing Campaigns
On Weibo, there are two types of marketing campaigns:
These campaigns have formats and regulations defined by Weibo, and can only be launched by verified accounts. Common examples of System Campaigns include:
-Lucky Roulette Campaign
-Flash Sales Campaign
-Repost Campaign
-Content Collection Campaign
-Preordering Campaign
-Free Trial Campaign
These campaigns are developed and tailored to the needs and objectives of the organizer. Verified and unverified accounts can launch creative campaigns.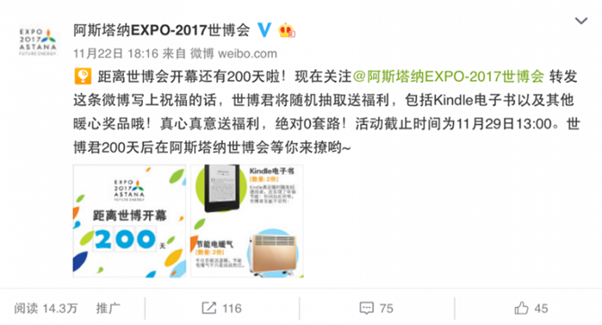 Astana Expo 2017 launched a Creative Campaign, asking people to repost a specified Weibo account and wish the expo well. Users had the chance to win a Kindle, an energy-efficient electric heater, or recyclable water bottles. It was essentially a Repost Campaign combined with a Content Collection Campaign.
Weibo Marketing Strategy – Tips
1. If you haven't already, create an ad account.
2. Customize your profile and add information
3. Research and determine your target audience
4. Interact with, respond to, and engage with people
5. Seek assistance from specialists with local knowledge.
6. Make use of the trend data on Weibo.
7. Optimize your posts for search engines

8. Create compelling material and encourage engagement

9. Select the Weibo advertising approach that best serves your aim – either increasing your follower count or convert them into consumers.
We will be covering more tips in our Do's & Don'ts blog.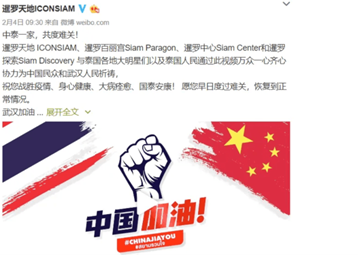 Weibo is used for social search in addition to microblogging. In general, the platform has a discover page that serves as an internal search engine.
Furthermore, this feature allows users to conduct complex searches using keywords and filters (e.g. related posts, pages, and accounts).
More importantly, Baidu indexes Weibo posts. As a result, search engine optimization (SEO) will play a significant role in your Weibo posts as well.
Weibo Content Marketing
Because Weibo is an open social media platform, marketers must have a continuous content marketing strategy in place to keep users engaged. After all, having a solid content strategy will assist you in making the most of Weibo's characteristics and features.
So, to assist you in developing a viable strategy, here are three content categories you can include in your approach:
1. Influencer-backed content – Having the correct key opinion leader (KOL) promote your content successfully enhances your brand's visibility on Weibo.
2. Festival material — Chinese holidays are extremely popular on Weibo. As a result, in order to generate considerable engagement and loyalty, your content must revolve around these events.
3. Content with rewards — Campaigns with giveaways and rewards are often engaging to users across all platforms. Doing so on Weibo eventually helps you develop your fan base and sales, especially if you're a new business on the platform.
In Closing
Remember that marketing on Weibo is only one step in your marketing chain. There are numerous tools and tactics available to help you gain traction in China, and a combination is most effective.
If you want to market and grow your business in China, contact a Digital Crew expert to ensure you do it correctly.