Trends from around the world are flooding Japan and in turn altering the everyday beauty and skincare regimen in the country. The Beauty & Personal Care market is prospering, and the Cosmetics and Skin Care segments are currently leading the way in Japan.
One thing that stands out is that skincare and more natural looks are widely favored in Japan, as far as beauty products and cosmetics are concerned. American cosmetics include more vibrant colors, better coverage, and high-end and premium brands that Japanese consumers desire.
Here is a look at Japan's beauty & personal care revenue growth over the years: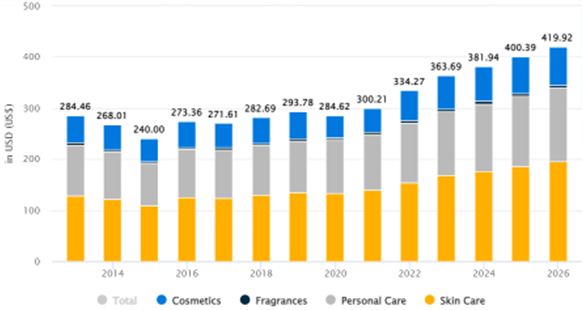 An Introduction To The Japanese Beauty Market
The Beauty & Personal Care market is predicted to expand by 5.40% every year (CAGR 2022-2026). In 2022, per person revenue of US$334.30 is being generated in relation to overall population data.
According to 2020 estimates, Japan has the world's third-largest beauty and personal care market. While this is a lesser portion of the pie than some other categories, cosmetics and beauty products are one of Japan's fastest-growing eCommerce markets. Even in the aftermath of COVID-19, the cosmetics market is expected to outperform this year.
Even before the state of emergency was announced in Tokyo and other urban regions (April 2020), brick-and-mortar department stores reported lower sales but higher online revenue, particularly in the beauty category. In 2022, online sales accounts for 20.4% of total revenue in the Beauty & Personal Care sector.
Japanese beauty companies that adopted the D2C model saw significant sales growth in 2020. The strategy has enabled businesses to react to consumer needs and create tailored products. This business strategy is popular with Millennials and Generation Z customers.
Rise in Number of Beauty Conscious Consumers
Japanese consumers are well-versed in the chemicals included in cosmetics. Because of the significant expenditure on skincare and cosmetics, Japanese consumers are aware of the brands they use, as well as the quality of products. Japanese people love products that are well-designed and packaged attractively.
The changing fashion trends create a demand for new products. Japanese customers are keen to test new solutions if their characteristics appear promising. This creates a huge opportunity for market players (both domestic and international, big and small) to produce new products by understanding consumer demands and requirements.
What Are They Buying?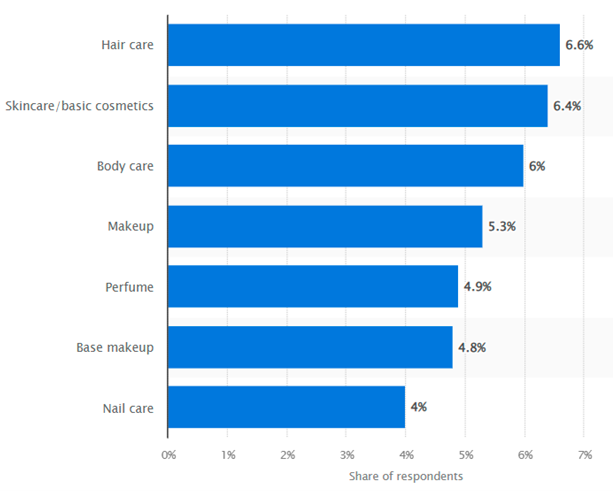 Skincare, foundation, eye shadow, lipstick, highlighter palettes, and all other sorts of makeup and personal care items are purchased via cross-border eCommerce. Because of the high demand for the products, there was a trend among Japanese millennials in 2019 to buy used makeup.
Skincare items account for 53% of the Japanese cosmetics market. Products for anti-aging, brightening, and hydrating are in high demand. Because of the global Covid-19 outbreak, eye zone care products have become popular. Japanese consumers are known for their sophistication, with high expectations for product quality and safety.
They are fashion-forward and enjoy experimenting with new and distinctive ingredients that produce excellent results. Cutting-edge cosmetics that have been scientifically tested are appealing.
A Demand For Natural Skincare
Japanese consumer behavior of picking items that promote natural, organic, clean beauty, and wellness is influenced by social movements relating to health and sustainable lifestyles.
Natural cosmetics products, including skin-fixing makeup, are becoming increasingly popular in the country, fueling the demand for natural and clean label cosmetics. Skin-lightening, aging-care, and skin moisturizing are the main products. The use of natural and clean skincare products reduces the likelihood of skin irritation and allergies caused by chemicals found in cosmetics.
Boom & Benefits of the Beauty E-Commerce Industry
The expanding internet penetration in the country, as well as the widespread use of sophisticated electronic gadgets, generate demand for the online sales channel. The use of big data analytics, AI, and the internet of things for real-time data gathering and analysis are predicted to contribute to the growing Japanese cosmetics market.
Ecommerce platforms offer lucrative discounts on the purchase of cosmetics. Quick doorstep delivery, simple exchange possibilities, and a variety of alternatives for product comparison based on price, efficacy, and product sizes are the services provided by online sales channels. These are the reasons likely to drive market expansion over the next five years.
International Brands Are Bestsellers
Personal care and beauty items, as well as cosmetics, are increasingly purchased by Japanese customers from foreign brands. This is due to both the cost and the diversity of products.
With an internet penetration rate of around 89.8 %, combined with the rise of social media, Japan's younger generation now have greater access to western beauty information. This has increased interest in and demand for western beauty products.
Because many beauty items aren't readily available in Japan, Japanese customers appreciate the variety offered by American cosmetics; American products are also often more cheaper.
France & Korea are also leading in terms of imports to Japan. Companies in Japan's neighboring countries, such as Thailand and China, are also growing in popularity among Japanese shoppers.
Many Korean firms have already capitalized on the trends and found success in Japan as a result of smart digital marketing strategies and savvy social media tactics. Clio Cosmetics and Ohora are two examples.
Know Your Regulations
In Japan, cosmetics and beauty products are subject to a plethora of laws. It is critical to ensure that the products you intend to sell do not include any components forbidden in Japan.
Labels that incorporate phrases like "rejuvenating" or "anti-aging" are not permitted. To sell cosmetics or beauty goods, Japanese beauty companies must first obtain a license to distribute cosmetics, as well as submit ingredient checks for the goods.
However, a license is not required for an international cosmetic business to sell on a marketplace like Rakuten. Even without a license, all beauty products must adhere to the cosmetics standards. Ingredients, the name of the maker, and other important information must be included on labels.
In Closing
The generational shift with young consumers entering the beauty market, is the primary cause for its rapid expansion in Japan. At the same time, social media, internationality, and eCommerce are reinforcing this shift, which also has a long-term impact on beauty product purchasing behavior.
Contact us to learn more about marketing your beauty items to Japanese consumers online.