Being found on the China's BIGGEST search engine.
It is critical to appear in the first place when a search engine user is looking for information in order to attract new clients and generate leads to your website. In China, there are multiple search engines, such as Qihoo 360 and Sogou, but Baidu is the local "Google."
It is almost certain that if your real estate properties are not occupying top positions on the first page of Baidu, you may lose up to 60% of leads who are not sent to your website. Optimizing for Baidu with a proper keyword strategy is a technique that could assist you in drawing more views to your international property listings.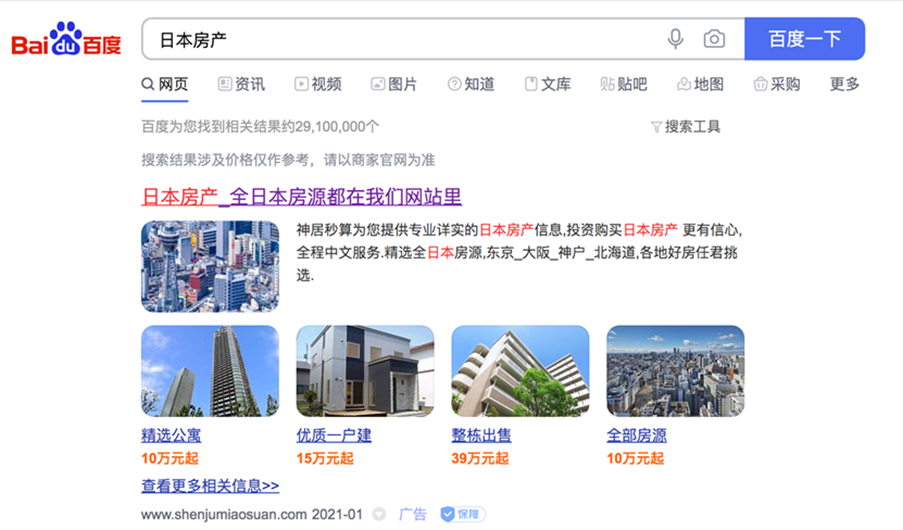 Baidu's Benefits In A Nutshell
You can advertise on Baidu by posting listings on search result pages, or across its display network of over 600,000 partners. Foreign real estate firms can reach up to 500 million people who utilise the platform on a monthly basis.
Baidu has a number of excellent tools that might help your ad stand out. Baidu Landmark, for example, lets you embed video content in your ad. To entice purchasers, why not conduct a mini-tour of the property? A fantastic technique to inform a prospective buyer about a property's appealing qualities!
'Baidu Promote' is another feature that provides advertisers with a range of promotional services. Sellers with a 'Baidu Baike' page are often more likely to gain the trust of Chinese consumers. Read more about these 2 features here.
A successful Baidu strategy is based on keywords that you use for your website. Here are some key tips that will improve your chances to climb higher in Baidu's search results.
PPC on Baidu: An SEM strategy
There is also the possibility of using PPC to generate more leads for your website. A Baidu PPC campaign for a real estate professional can be profitable very quickly, with a high return on investment. Paying a search engine to sponsor your website, will ensure that your website appears first on its search page results, resulting in more leads and visitors. Here is a short guide on how PPC can be a good approach to have at your disposal.
Baidu Brandzone
These ads enable you to target branded search terms and display enormous advertisements that occupy two-thirds of the first page of search results. Furthermore, you are free to incorporate any form of content in these ads. Consider a variety of photos, video clips, animations, and hyperlinks to your website.
Digital Crew is a Baidu SEO marketing agency that can improve your brands' visibility on China's top search platform, by employing the right strategy, right content and right techniques. Get in touch with us today.