Post 95s, Gen Z or Dotcom kids. They go by many names and are truly China's global generation. They have been shaped by the technology of the 21st century.


Let's look at some key Chinese Gen Z characteristics-
THE EXTRAORDINARY "ORDINARY PEOPLE


GEN Z is a generation without a standard role model. There is no longer a 'template' for their aspirations. If there is no template for success, what do GEN Z aspire to be?

A dream that tops the list is "being an ordinary person". But what do GEN Z mean by "Ordinary Person"? Ordinary does NOT mean mediocre. They aspire to be an 'ordinary person' who is 'extraordinary' in their own way. 72% of GEN Z believe that their own opinions and achievements in a particular area, can better represent themselves than their consumption and career.
Excelling in what was once termed "meaningless" and "frivolous" in society is now seen as meaningful. Also, leading an ordinary life also means that "failure" is seen as a positive thing. 60% of GEN Z in China % agree that today, failure is seen as a positive thing.
An ordinary life means daily life is no longer secondary, but has become the focus of life, and they make the most of the opportunity to "Rewrite Everyday".
The Unscripted Generation
China's Gen Z is a generation of short commitment. 49% of GEN Z in China say they enjoy cancelling plans they've made. Their identity is constantly self-renewing and the feeling of "Now" outweighs anything else.
How Proficient & Rational Is China's Gen Z?
For Gen Z, making a purchase feels like undertaking a huge research project. In the end, their decision is still made by momentary emotions. What motivates them to take action is a hook – a tagline, a picture, a scene or a strong call to action
They can accurately detect sponsored ads; 84% believe that the goods recommended by KOLs & influencers are not trustworthy.
The Connection Paradox

China's Gen Z enjoys its independence, but also desire connection. Sometimes they find this connection with their pets.

With the rise of new technology, they have a multitude of ways to connect with each other. These connections are based on interests and mindsets.

This communication & conversation happens at a breakneck speed.
– Relationship algorithm: Fast matching, fast filtering
– Communicate with acronym but never characters
– 1 meme speaks louder than 1000 words

Are they Satisfied?
This level of connectivity is part of their everyday life:

68% of Chinese GEN Z prefer to socialize via messaging apps on their phones than in person of
61% of Chinese GEN Z try to avoid answering phone calls
66% GEN Z prefer to play video games with their friends as opposed to meeting up in person
Gen Z appear to be satisfied with this connection, but is this kind of connection really enough for them? GEN Z "optimized" the connection, but missed out on the opportunity and process of building deep intimacy, and the lack of deep connection generates the loneliness inside
63% of of GEN Z in China feel lonely despite being surrounded by family and friends


Craving True Authencity

-58% of GEN Z agree that it's important to put the truth ahead of all factors
-They look up to unpolished idols. This kind of idol is no longer the puppet, makes mistakes and has his/her own unique personality. Sometimes they dare to express dislikes on social networks.
– Academics are no longer just the serious, far-off people of the past. They appear on various video sites, telling jokes. Gen Z also gains knowledge via these channels.
-The Gen Z audience is attracted to powerful women. Audiences no longer like the silly girl image, they want to see an intelligent female image with her own ideas, even "malicious" is not an exaggeration. Handsome and cool, that's what counts.
– Unconcealed attitude towards retouched photos & advertising posts
Voting With Wallets

93% of Gen Z in China agreed that they have the power to influence a global brand's actions and behaviours for the better. And, 87% of GEN Z in China said they would spend more on a brand that supports an issue they care about.

Gen Z is a generation that takes a stand with their wallets.
– Fans pay to "reward and vote" for their favourite idols
– Fans pay for idol-related products to prove their commercial value
– Express support for original content by paying

72% of Gen Z respondents said that they always share their thoughts and provide feedback, whereas this ratio is only 40% globally. Meanwhile, over half of the GEN Z will leave comments on brands' websites.
A brand's statement is no longer limited to slogans, any behaviour will be perceived as declaring a position by consumers
A well-known laptop brand invited a Chinese talk show actor to endorse the brand. But, the brand had to withdraw its endorsement because it was thought to have caused controversy by provoking the topic of confrontation between the sexes.
A well-known Chinese personal financial business brand apologized for the serious value problems of financial advertising on short video platforms.
A highly aggregated video platform causes disputes because its pop-up ads involve content that does not respect women. After that, several brands announced the termination of their contract.
The Modern Patriot

GEN Z rate their national sense of pride as 9.38/10 points, higher than other age groups. What is GEN Z exactly passionate about as far as their patriotic attitude is concerned?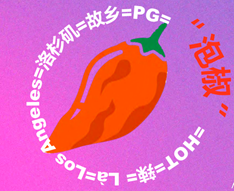 Inspired by the famous star's love of the Chinese nickname "Pickled Pepper", the world-renowned sports brand combines Chinese characters with English. The "spicy" taste of pickled peppers is linked to the star's team, and the word "spicy" is also very characteristic of Chinese cuisine

Do not stick to the tradition, but look forward to the representative pioneer of modern civilization.


In Summary


So, how can your brand resonate with all the mentioned Chinese Gen Z characteristics?

✓ Celebrate "ordinary"
✓ Allow failure
✓ Encourage own pursuits
When facing the lonely GEN Z in this 'atomized' society, brands have the opportunity to become a medium that helps create dialogues and emotional anchors between consumers, and further facilitate the establishment of deep intimacy.

More than ever, Chinese GEN Z expects brands to represent their lives in a more authentic manner; portraying the real challenges they face in life accurately; and potentially stepping up to alleviate these issues with their voice. For example: Presenting a more anti-template image of a flawed persona, communicating in a straightforward or even self-mocking way, and growing up with consumers instead of teaching them how to behave.
Incumbent brands are bound to live under the supervision of society and the general public. Whether or not a brand can sustain its affinity and preference, in the long run, rests on how the brand performs in undertaking more social responsibilities and implementing initiatives