China's tourism economy is still recovering at a sluggish pace. The domestic market has recovered from the disruptions and resumed pre-COVID-19 growth. However, China's international travel remains highly limited and has yet to show any substantial recovery.
Large numbers of Chinese tourists have become an important part of the worldwide tourism business. Coronavirus has abruptly thwarted this massive source of revenue for major towns and tourist attractions all over the world. In addition, China has become notoriously efficient in cutting down the flow of outbound travellers, Here's a look at how Chinese tourists have impacted various countries-
Europe
After two hard years, pizzerias and shopping boutiques across Europe are once again greeting travellers, with one major difference: Chinese tourists, who were among the most frequent spenders prior to the pandemic, are nowhere to be found.
In 2019, over 28% of Chinese people travelling abroad visited Europe. In 2019, around 6.33 million trips were undertaken from China to Central and Eastern Europe, outnumbering trips to Western European locations. Southern Europe and the Mediterranean regions were the least visited by Chinese tourists.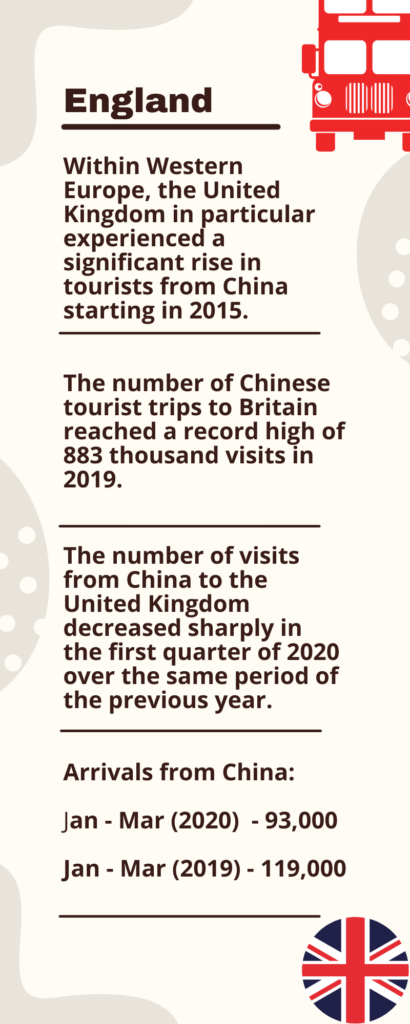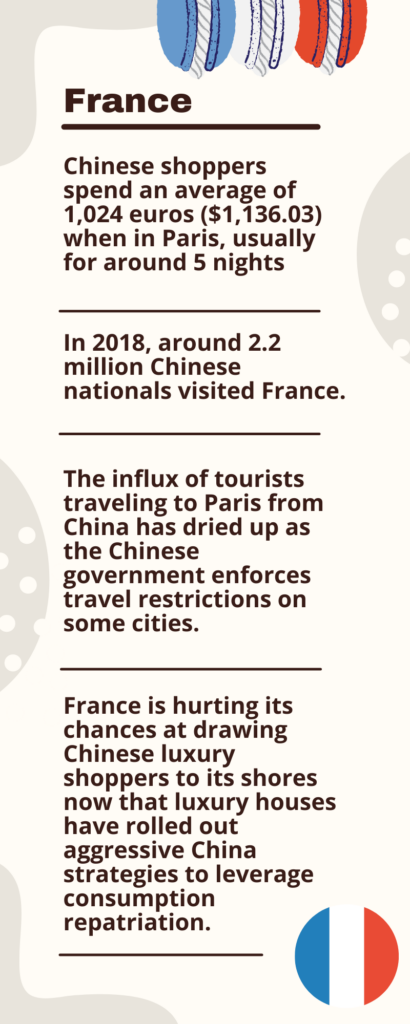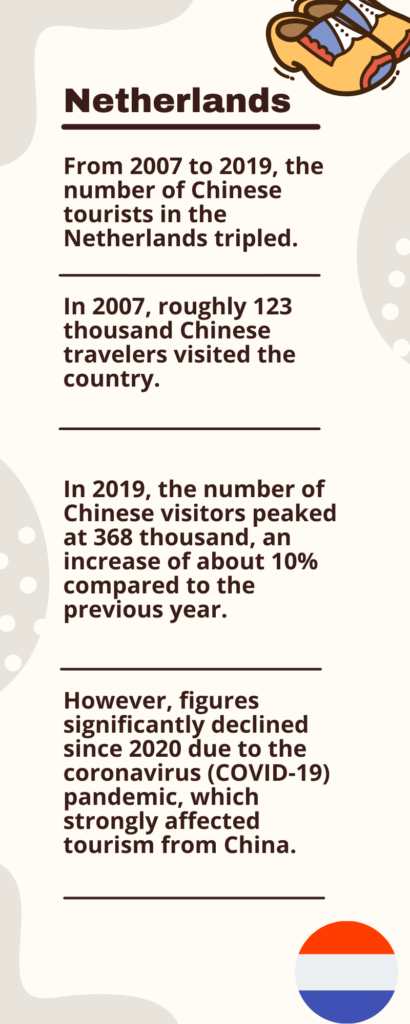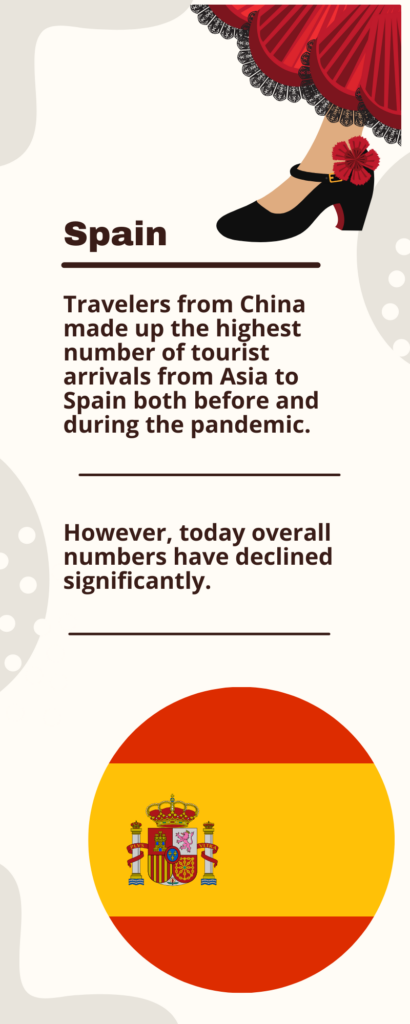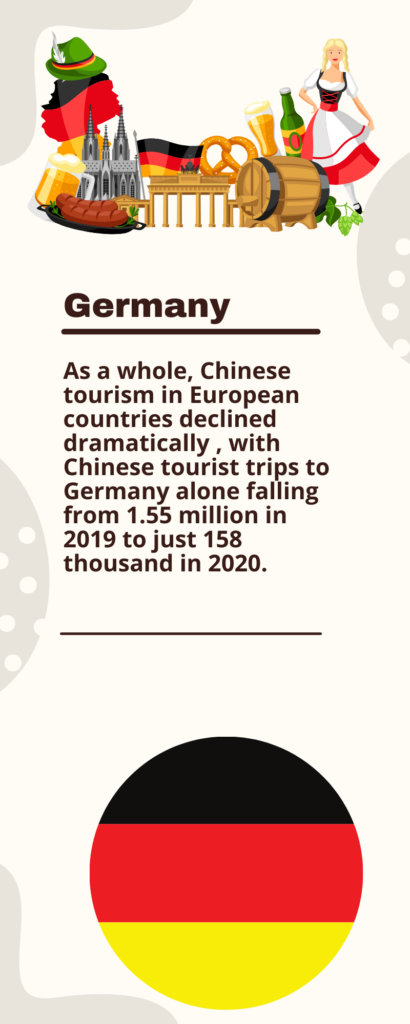 Asia
It's the same in Asia, where tourism-dependent businesses are opening their doors, yet the white-sand beaches of the Philippines and northern Thailand's night markets are practically vacant.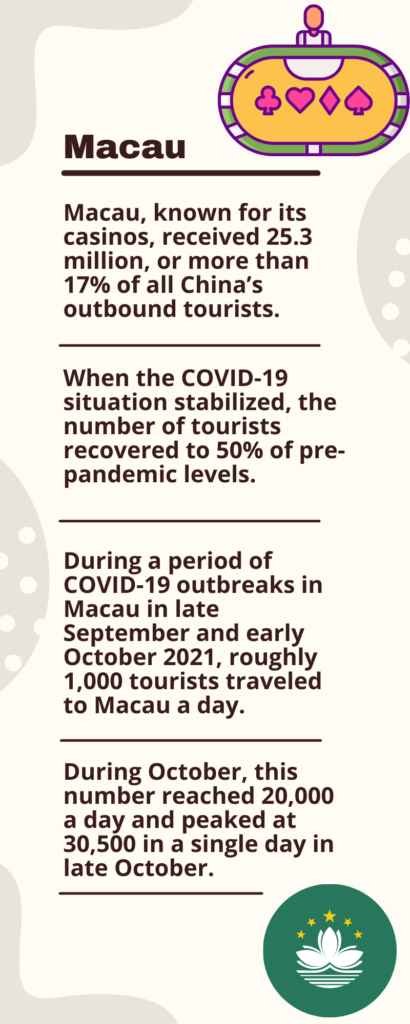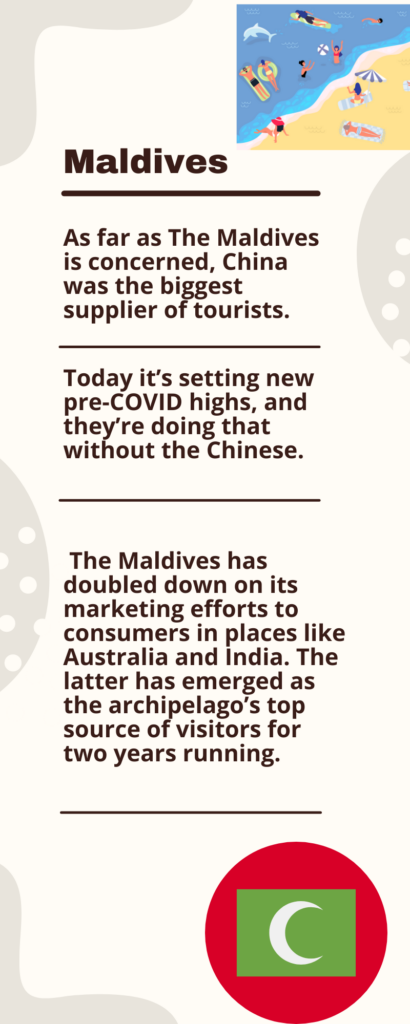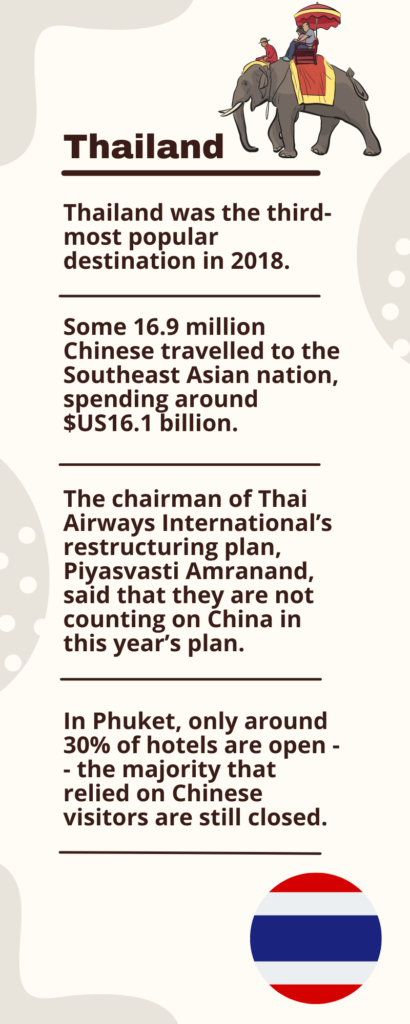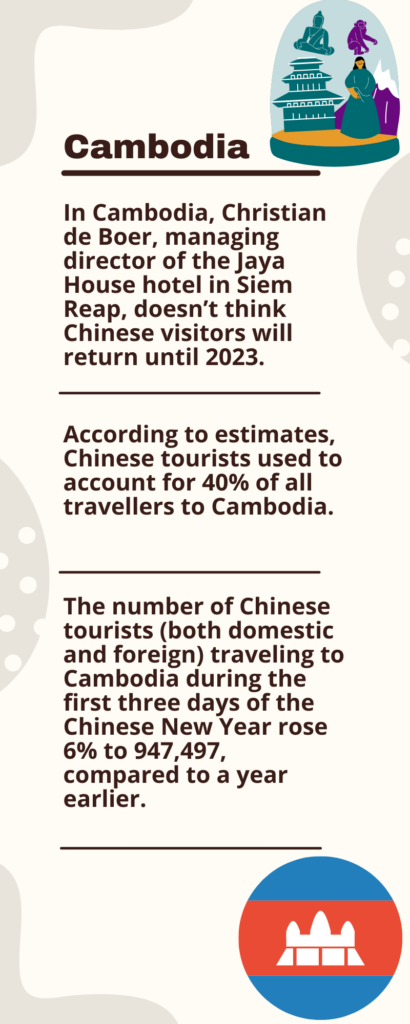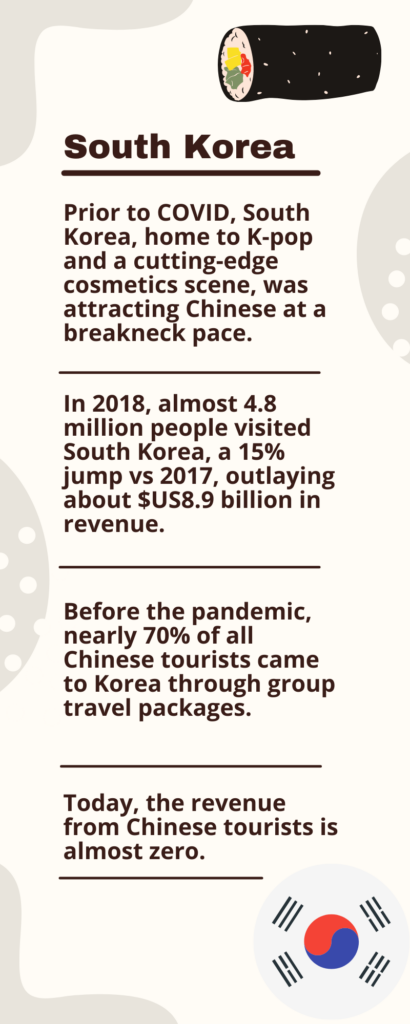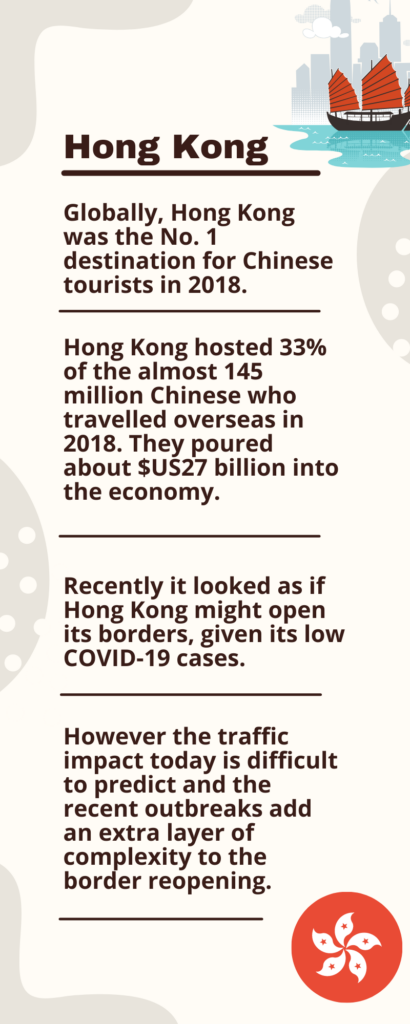 Rest Of The World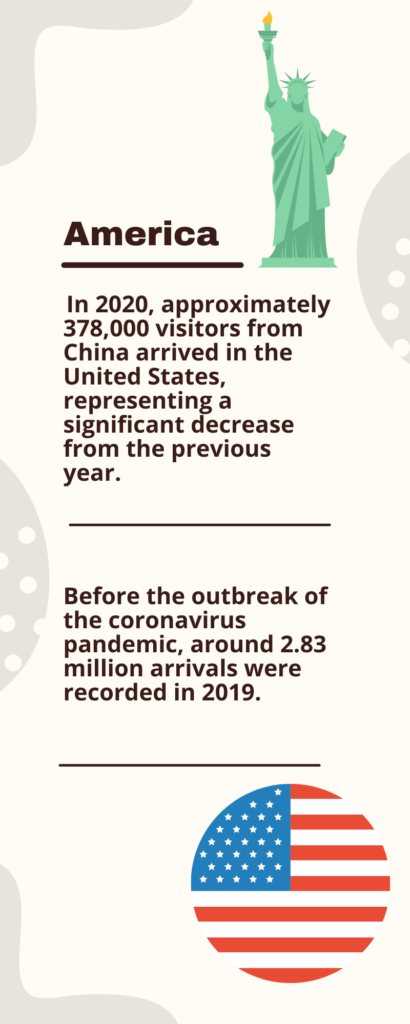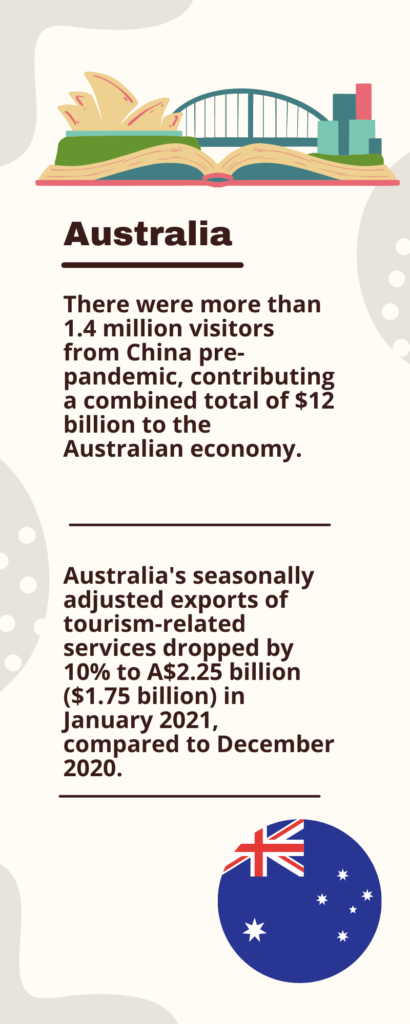 International Travel – Is It Off The Table For Chinese Tourists?
China's borders remain essentially closed as the country maintains a zero-tolerance policy toward the Coronavirus. International travel is essentially off the table for the country's 1.4 billion people, with weeks-long hotel quarantines on return and flight alternatives severely limited.
While there is evidence that Beijing is preparing an exit strategy from COVID Zero, border controls and other limitations are unlikely to be loosened significantly before 2023 – given the need for stability in a politically key year for President Xi Jinping.
Because transmissions are normally greater in the winter months, Goldman Sachs believes that border restrictions will continue in place for the rest of this year and may even extend until the spring of 2023.
Sporadic Patterns
Despite rising consumer confidence in China, travel demand has slowed as a result of occasional COVID-19 outbreaks. A consistent pattern is emerging in which the desire for travel recovers around two months following a decline. Despite restrictions on international travel, the desire for travel persists. Furthermore, travel preferences are changing, which has repercussions for travel companies and the China tourism economy.
Spikes and Dips In Desire
When it comes to travel attitude, as COVID-19 outbreaks persist, there has been a spike and a decrease in desire to travel. Only 2% of individuals planned to travel in the next two months (October 2021).
However, based on the results of the five tourist polls, COVID-19 outbreaks appear to reduce travel demand for up to two months.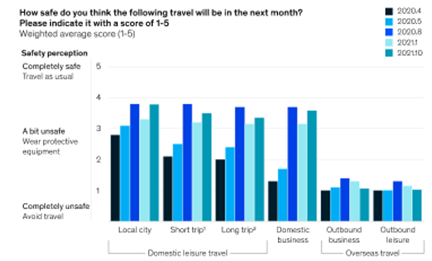 Travel trends reflect changes in travel aspiration. Between August and September 2021, the number of airline passengers climbed by 61%, then increased by 8% in October, followed by a 45% fall between October and November.
Currently, 42% of respondents expect to fly domestically for their next leisure trip, with 26 % of these flights lasting more than three hours.
Recovery Seems A Long Way Off
Chinese travellers have a strong desire to travel both domestically and internationally. Despite the fact that foreign travel is restricted and the majority of respondents still regard international travel as unsafe—and are not planning to travel internationally in the near future—a sustained interest in international destinations remains.
The desire to travel abroad has returned with APAC being the most popular destination (24%). The most requested international locations are Southeast Asia, Europe, Russia, and Japan.
Several factors influence one's willingness to travel globally. The return of outbound leisure travel will likely be delayed as China's policy continues to delay any international opening. When travelling abroad, the Chinese consumer expects to encounter almost zero COVID-19 cases in the target country (86% rated this as a top 3 factor). This situation may be unlikely in the near future as the world reacts to recurring COVID-19 outbreaks and breakouts of new strains.
Actions that travel businesses can take
The desire to travel is palpable, and the pent-up demand for outbound travel is growing. At the same time, domestic travel is reviving, albeit momentarily hindered by isolated COVID-19 outbreaks. Here are some measures travel companies can take.
1)Provide Flexible and Quick Service
In this environment, travel companies can plan for surges in demand while also considering emerging travel trends. To better serve travellers, travel businesses may seek to modify their strategies. Given the fast changes in policy, travel companies, in particular, can be more accommodating to clients' changing plans.
They can also target local people within driving distance, and differentiate offers to fit shifts in demand by emphasising satisfaction and distinctiveness. Travel companies can also reach out to clients through digital means, tailoring content to their market segment.
2) Go beyond loyalty programmes to cultivate loyalty
Travel companies can create customer loyalty in new ways. Brands and loyalty programmes may no longer be decisive. Instead, satisfaction and uniqueness are becoming more essential factors in travel decisions.
Loyalty schemes have historically been beneficial in keeping high-income people or the Silver Generation, but younger travellers choose experiences over brands or loyalty points. Generation Z has a stronger hunger for local boutique hotels, but a lower willingness to return to a previously visited hotel.
3)Offer A One-Of-A-Kind Experience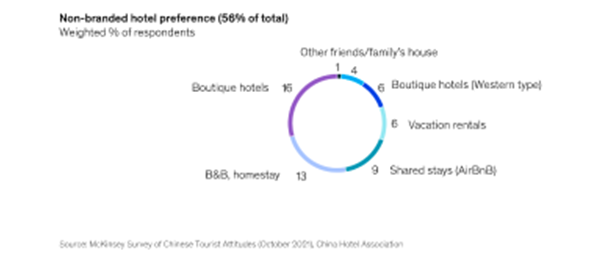 There is a growing demand for local boutique hotels as well as brands that use collaboration with other enterprises to better reach targeted client groups or provide unique experiences.
Among non-branded hotels, respondents of all ages prefer boutique hotels and beach resort villas that provide an exotic cultural experience, or B&Bs and homestays that provide a local experience.
When comparing demand in terms of the percentage of respondents interested in branded hotels, premium hotels and budget hotels, they have a disproportional demand. Mid-tier hotels may have a more difficult time capturing demand.
4) Assure Safety
Concerns about health and safety, such as cleanliness and privacy, have increased in importance, ranging from 36% to 48%. However, price and promotions continue to be important, particularly with Silver Generation customers. Convenience is an important factor: easy-to-go offerings have increased in importance from 25% to 39%, and door-to-door trip options have climbed from 26% to 35%. The only component that has reduced in importance is comfort, which has dropped from 47 % to 36%.
In Summary
-To drive loyalty, travel companies should emphasise distinctiveness or experience, in addition to loyalty schemes or discounts. They might also think about creating seasonal products to satisfy customers' thirst for new attractions and experiences. Branded hotel businesses could also diversify their offers by incorporating local experiences.
-In 2022, there are still unanswered questions. International locations must be 'China Un-Ready,' which means they must have a solid plan in place in case Chinese visitors abruptly disappear.
-Trends imply that possibilities in China's local market are emerging.
-Travel companies have the opportunity to enter the new year with their eyes wide open to the changes and closely manage them. They can diversify their travel offerings and marketing models to cater to the domestic market—and potentially forge a new domestic operating model into long-term sustainable solution.
Get in touch with us to better understant the chinese tourism economy & the Chinese tourist in 2022, while more effectively appeal to his/her wanderlust.