You've probably heard about this certain Chinese twitter app before and you're curious about how it functions. As certified Weibo agency partners, let us help you navigate this 'Chinese twitter' app to reach out to those 850 million active Sina Weibo users.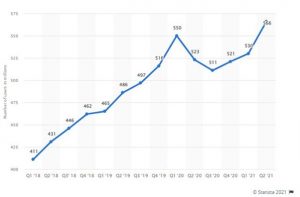 Including a Sina Weibo advertising component to your Chinese social media marketing strategy is a great way to build a trustable following, promote your business and engage directly with a large, active community of potential consumers in the most targeted way. Ultimately the goal is to drive conversions & sales.
Types Of Weibo Ads
Before devising a Weibo Advertising strategy, you need to know that there about the different types of Weibo ads namely:
Display Advertisements
Weibo Search Engine Promotion
Fan Headline
Fan Tunnel
Feed ads
Destination Page Ads
1)Display Advertisements
Display advertisements work similarly to Facebook ads and can be accessed in a variety of sizes. They adjust to different sites on Weibo's mobile and browser editions. When a person clicks on it, they are routed to the advertiser's homepage.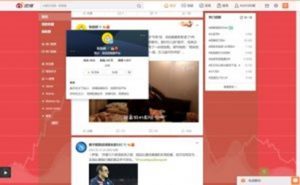 2) Weibo Search Engine Promotion
Another approach to advertise on Weibo is through Weibo search engine promotion, which is a potential advertising option for brands on Weibo. This is a niche version of the Google search engine, and its marketing technique is similar. Weibo's search bar is pre-loaded with a variety of buzzing search words, and there is no better method to target consumers than to target users within the search brackets. The cost of Weibo search engine promotions, like Google's, varies according on the popularity of the keywords.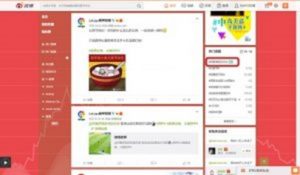 3) Fan Headline
The Fan headline has the widest reach to the audience because it appears at the top of the user's feed within 24 hours. It is a quick and swift way to reach out to promote Weibo posts and accounts based on the uniqueness of updates and social networks of the target audience.
The three types of Fan Headlines on Weibo are:
-Fan Headline For Posts
-Fan headline for others' posts
-Fan headline for accounts
· Fan Headline For Posts
This type of promotion reaches a users feed within 24 hours just like a Facebook or an Instagram sponsored post. You can not only choose to promote your designated Weibo post to your existing followers, but also to potential followers based on the relationships of your original followers, as well as based on different industries or interests. For example, if a user wishes to promote a post about fashion, Fan Headline will select users who follow fashion news and are interested in fashion-related posts. Additionally, you can also select one to five Weibo accounts and promote your Weibo post to users who are similar to followers of these accounts.
· Fan Headline for other's posts
This type of promotion is similar to targeted ads on Facebook. This type of promotion involves placing another user's post at or near the top of their followers' feeds.
· Fan Headline For Accounts
This type of promotion is similar to Facebook's page promotion, where an advertiser promotes his page to reach users accounts for follows. In this case, it ensures that your account is recommended to Weibo users who are most likely to follow your account within a limited time span eg. 2 days
4)Fan Tunnel
This type of promotion is similar to Facebook display ads that appear on the side of the home feed or sometimes even on the home feed. On Weibo the fan tunnel is similar to fan headline as It promotes a Weibo post or account. These posts or accounts promoted by the fan tunnel appear at the top of the target audience's feeds. You can also promote an app through this fan tunnel campaign.
5) Feed Ads
These adverts, which can alternatively take the form of a post or a single image with a product link, appear in the feeds of existing followers. They differ from fan headlines in that they appear between regular feed posts.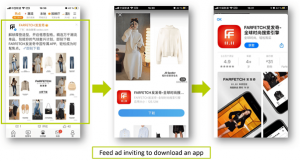 Feed ads may be particularly effective because, while a certain percentage of users will view headline and display ads, many users will instinctively scroll over them, recognising that it is advertising. A feed ad has a better probability of being viewed by these users. As a result, it's best to mix and match, integrating feed advertising alongside other sorts.
6)Destination Page Ads
Mobile Weibo users will see a full-page ad at various intervals, including when they launch the app. They can be static images or short films that, when clicked, will take you directly to a product or account. Users can avoid these adverts, however they usually only last five to ten seconds, at which time it is sometimes easier to just wait it out. Given the size and format of the ad, this option allows for more creative content to be pushed.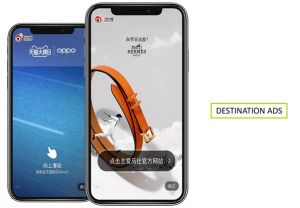 Keep in mind that these are significantly more graphically focused advertisements. In comparison to a conventional post-type, which may include multiple sentences, the amount of text included is limited. These advertisements are best viewed as moving posters.
In Closing
We would recommend incorporating Weibo advertising in your Chinese Digital Strategy because 82% of Weibo users shop online. Some of the top brands like L'oreal, Louis Vuitton, Unilever etc. and many other influential people leverage this platform to their advantage. This article has hopefully answered some of your queries
Reach out to us if you have any more questions on Weibo Advertising