The majority of the Japanese economy is comprised of middle-class customers with significant disposable income. This is one of the fundamental reasons why marketing to Japanese consumers is so appealing to businesses planning to expand internationally.
One of the most significant contrasts between Japanese customers and an existing American customer base is culture, which can frequently cause difficulties in getting into the market. Understanding what Japanese clients expect when selecting a product is one of the most effective things a company can do to help bridge the cultural gap.

Here are the top 5 expectations-
1) Lower Prices Online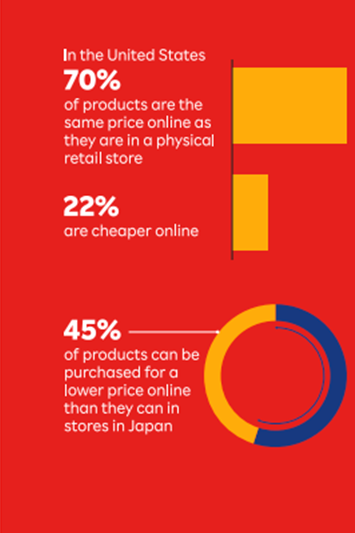 One of the main reasons Japanese consumers prefer to buy internationally is that foreign brands frequently offer lower prices. While it is true that there are multiple contributing factors in product selection and brand loyalty, other than price, delivering competitive pricing is a necessary. It is also expected that things will be more affordable online. This is especially crucial for resellers of national brand items who will be competing with a wide range of other retailers.
2) Fast & Flexible Shipping
Geographically, Japan is a small country. This means that the majority of retailers can provide same-day or next-day delivery. Japanese consumers are accustomed to quick delivery, but there is ample evidence that they are ready to wait for foreign shipping – as long as the products satisfy their expectations. This is heightened when they approve of a brand and have a great online purchasing experience.
Sellers must provide a variety of flexible delivery choices that allow customers to choose when their products will arrive.
3) Transparency
Customers in Japan do not take marketing statements at face value and may be sceptical in their purchasing decisions. This is not an insurmountable barrier to overcome. A company, when marketing to Japanese consumers, must demonstrate that it is committed to the openness that these consumers expect from international brands.
One persistent trend among Japanese customers is that user reviews are more valuable than expert advice. Making sure that customer evaluations are available and properly translated so that other Japanese buyers can see them when making their decisions is a terrific approach to help develop trust in your brand.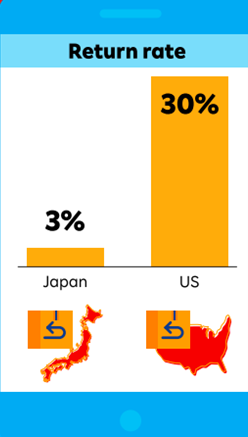 According to research, Japanese shoppers want to know how to return a product. Return rates in Japan are astonishingly low when compared to those in the United States; they are about 3% in Japan, compared to up to 30% in the United States
4) Detailed Information
Before making a purchase, Japanese buyers conduct extensive research. As a result, having detailed information about your business and products will be vital to your success.
Using an online marketplace is one technique to guarantee that as much information as possible is included in the product description. Create custom product pages that appeal to targeted consumers. Making certain that everything is properly translated also aids in removing any potential stumbling blocks on the buyers' journey – from consideration to ultimate purchase.
5) Loyalty Should Be Rewarded
Almost half of all Japanese consumers choose a website based on the presence of a rewards system. According to this survey, this was the most important criteria for customers, second only to the variety of products available.
The majority of incentive structures in Japan are built on a points system, which allows buyers to earn points toward discounts with each transaction. This technique is successful because it attracts customers and incentivizes them to purchase again. This contributes to the brand loyalty you are attempting to instil in your customers while marketing to Japanese consumers.
Want to match customer expectations in Japan? Our team can help you get started, or optimize your existing marketing campaigns in Japan. Get in touch with us today.