You have probably heard of Douyin, the fastest-growing short video app that has won the hearts of some of China's youngest online population. As of January 5, 2020, Douyin has reached the hallmark of 400 million daily active users (DAUs), which is almost half of China's online population. What exactly about the app that makes it so viral? How do brands leverage Douyin to maximize the effects of their social campaigns?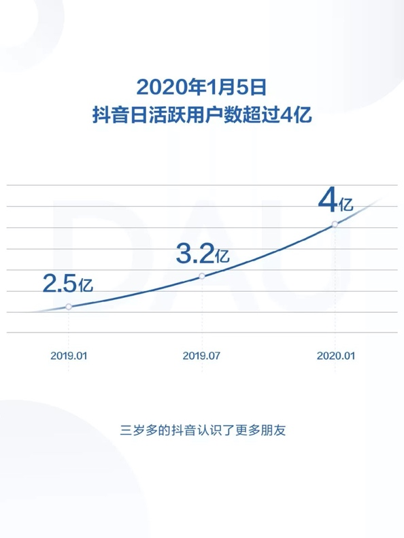 Growth of DAUs of Dpouyin in 2019 Source: WeChat Public Account
What Is Douyin?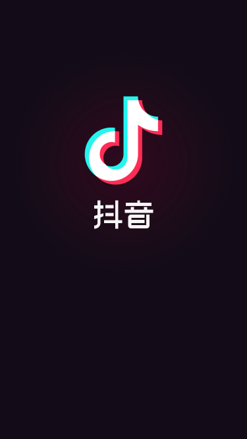 Launched in 2016, Douyin is a short video platform developed by Chinese Internet giant ByteDance. Although many compare the app to WeChat and suggest they are the biggest competitors to each other, the two apps have vastly different features and user demographics.
It stands out among many social media platforms because of its heavy focus on short video content, which lasts for either 15 or 60 seconds. It also provides users with a list of background songs and filter options to customize videos. The combination of rhythmic songs and stylish filters is often what makes seemingly mundane content such as pet videos, people eating food, and shopping videos unique and viral.
Attention! Douyin Is Not TikTok
Many observers equate Douyin with TikTok. A Google search of "douyin" would return to a Wikipedia page explaining what TikTok is. While the two apps are indeed owned and developed by the same company and have an almost identical user interface, Douyin and TikTok have distinctively different user bases and in-app features. In order for content to be accessible to users in China, brands and advertisers should target the Chinese video app instead of TikTok; the latter—both the app itself and its content—is only available for international users.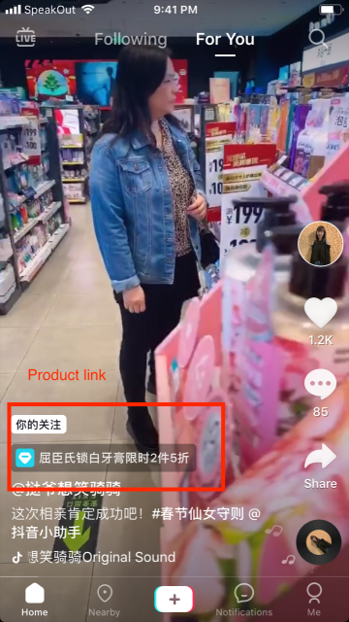 Meanwhile, compared to its international counterpart TikTok, Douyin is arguably a much more powerful marketing venue for brands and advertisers. Douyin has developed into a mature social e-commerce platform in less than four years. With just three clicks, users can buy a product featured in a video. Luxury brands such as Dior and Lancôme have set up Douyin channels to feature their products. Cities have their official accounts to share promotional videos, in which users can tap for location and contact information. Restaurants and hotels use this app to give viewers a virtual tour and coupons of the establishments.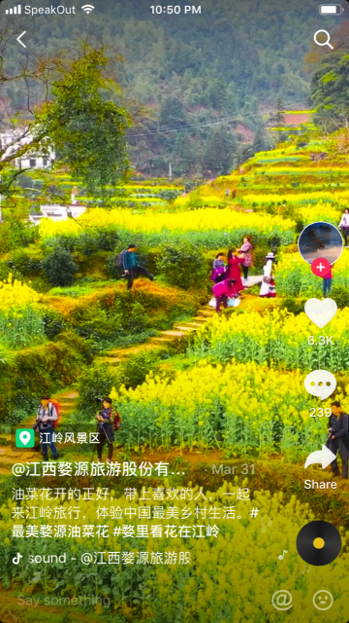 Screenshot of a Jiangxi-based Tourism Agency's Douyin account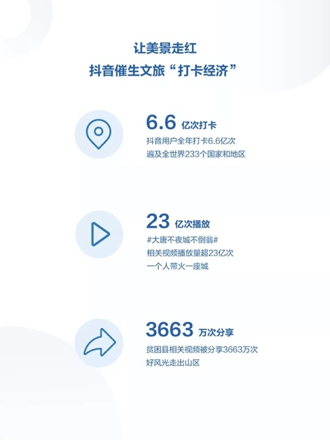 Statistics of Tourism-related videos on Douyin. Users Geo-tagged their travel destination 660 million times. Source: WeChat Public Account
In 2019, the increase in the transaction volume on short-video platforms such as Douyin was three times as much as that on Weibo, signalling a clear shift from text-based marketing to video-oriented content. On the Singles' Day (an annual sales event in China, similar to Black Friday) in 2018, a Douyin account sold over 100,000 products in 24 hours, accounting for a 1000% increase of its daily transaction volume.
2 Ways Brands Can Make Use of Douyin
There are two fundamental ways brands can promote content on Douyin: organic marketing and paid advertising. In reality, brands often combine the two to maximize the results of their marketing campaigns. For example, brands often partner with key opinion leaders (KOLs) to promote their campaigns and sponsored content. Although partnerships with KOLs can be expensive, it ensures visibility and virality of the content. Below are some prominent examples of marketing on Douyin we have seen so far.
Custom Stickers and Hashtag Challenges: Effective tools to Engage with Users
Pizza Hut, the American restaurant chain, recognized the potential of Douyin in the early days of the app. Around Halloween in 2017, Pizza Hut launched a dark-themed hashtag challenge on Douyin to promote its new pizza recipe. It also created a red-hat sticker for Douyin, which is the signature logo of the brand. Thanks to the collaboration of the two Douyin KOLs, the campaign received hundreds of thousands of likes even when marketers were still unsure about Douyin's commercial value.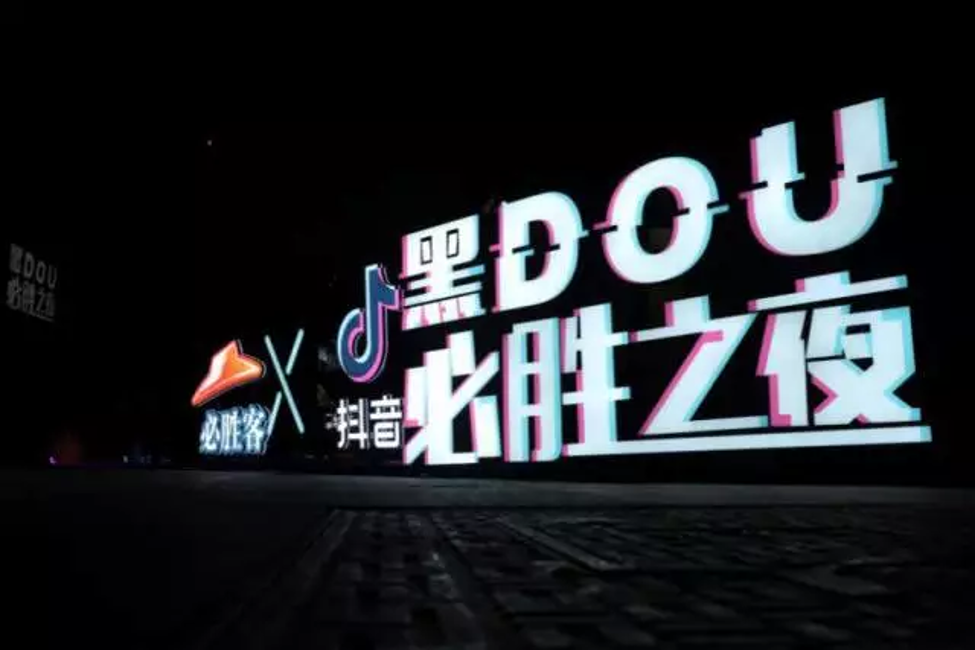 Luxury brands also understand Douyin's marketing potential. The American fashion icon Michael Kors started to use Douyin for their marketing activities as early as 2017. In fact, it was the first luxury brand partnering with the Chinese short-video platform.
In the Walk Shanghai event in 2017, Michael Kors worked with its brand ambassadors and Douyin KOLs to promote a "city catwalk" hashtag challenge on the platform. The campaign reportedly received over five million viewership and 30,000 users participating in the 15-second video challenge.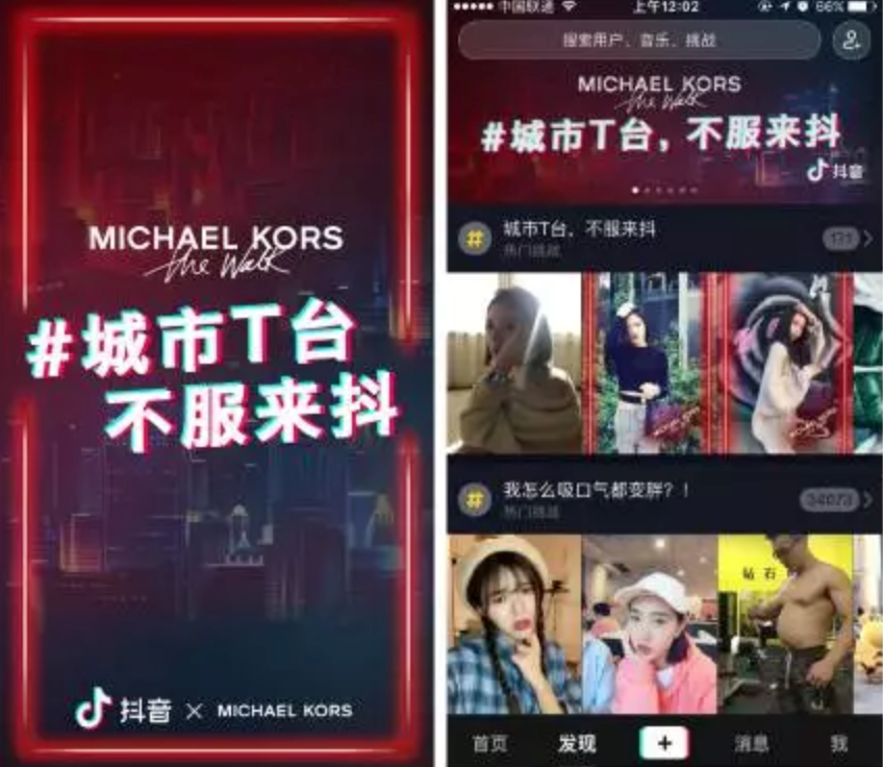 Splash Ads and Newsfeed Ads
Splash ads are full-screen ads displayed before the app itself is opened, which lasts between three and five seconds long. These ads can be still pictures or video content but no external links are allowed to be embedded in the ads.
Newsfeed ads are video auto-plays when users scroll past them. Similar to splash ads, they can be an image, a 15- or 60-second video. Unlike splash ads, newsfeed ads may include messages and an external link such as links to the purchase page of a product.
According to a study by Snapchat, the American multimedia messaging app popular among young users indicates that users are nine times more likely to finish watching vertical, short-form video ads than horizontal ads. Moreover, users pay twice as much attention to vertical ads as to horizontal ads.
German automobile company BMW, for instance, has carried out a number of successful ad campaigns on Douyin. The most recent one is its ad campaign for the BMW 1 Series launched on Valentine's Day in 2019. Partnering with Chinese singer and dancer Jackson Wong, who has over nine million followers on Douyin, BMW's ad campaign received over 100 million viewership and thousands of comments.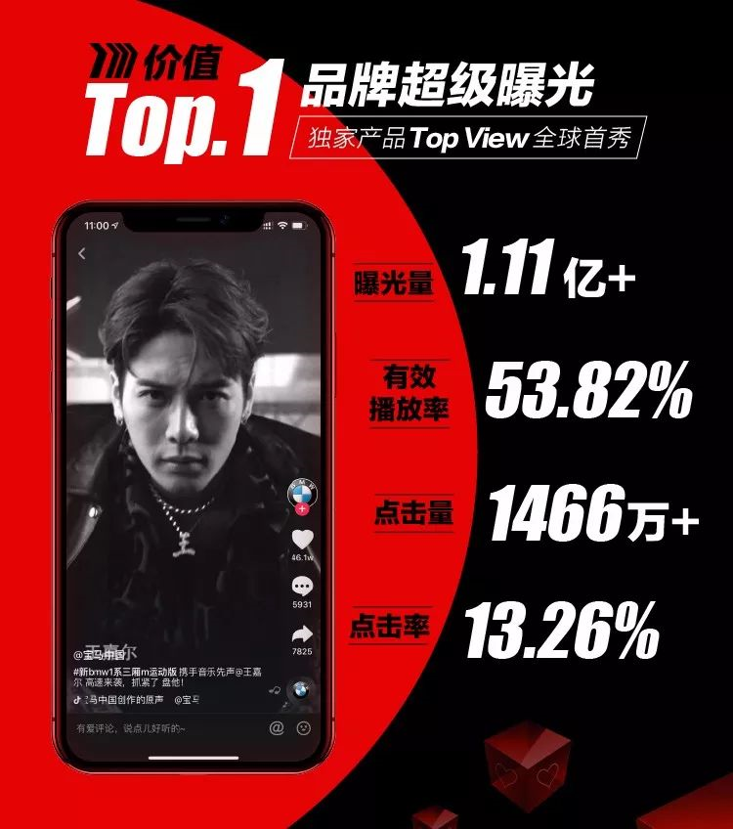 Chinese social media landscape is always evolving. Five years ago, nearly all marketers were fixated on WeChat and Weibo, which are still two of the largest social media platforms in China. As Douyin reaches the benchmark of 400 million DAUs, brands with goals to attract China's younger consumers can no longer ignore the significance of this app.
Contact us if you wish to find out more about how to succeed in social media marketing on Douyin and other Chinese platforms.