The face of America is changing—in the last ten years, multicultural Americans accounted for more than 90% of its population increase.
The Asian audience, within the US grew 175% from January 2019 to May 2019 (Source: comScore). Asian Americans who visit Forbes are twice as likely as the general internet user to be interested in automobiles and investing/retirement planning.
If you represent a firm or have clients that serve the American people, you should be aware that the Asian demographic represents the greatest opportunity.
Now, before you put together your Asian American marketing campaign with this broad audience at its core, let's make sure you're up to speed on the current facts and trends.
Defining The Asian Community In America
Asian – A person with ancestors from any of the indigenous peoples of the Far East, Southeast Asia, or the Indian subcontinent, such as Cambodia, China, India, Japan, Korea, Malaysia, Pakistan, the Philippine Islands, Thailand, and Vietnam.
The Asian American community includes speakers of dozens of diverse dialects and over 50 languages, with 81 percent claiming to be fluent in English. Their purchasing decisions are heavily influenced by family dynamics. Asian American households are 17% larger than the average US household and are more likely to be multigenerational.
This community of Asians in America is the fastest growing racial group in the country today. The Collage Group predicts that by 2060, the Asian segment will nearly double in size to 36 million individuals, accounting for around 9% of the entire U.S. population.
To capitalise, companies and marketers must gain a better grasp of the Asian customer group.
The Distribution – What Areas Do Asian Americans Occupy?
Newcomers are mostly driving Asian population growth – the foreign-born population accounts for 65% of the Asian increase in the United States. This, however, varies based on the origin group i.e. Indian, Chinese, Japanese, etc.

The Asian segment accounts for a sizable portion of many coastal metropolitan areas in the US.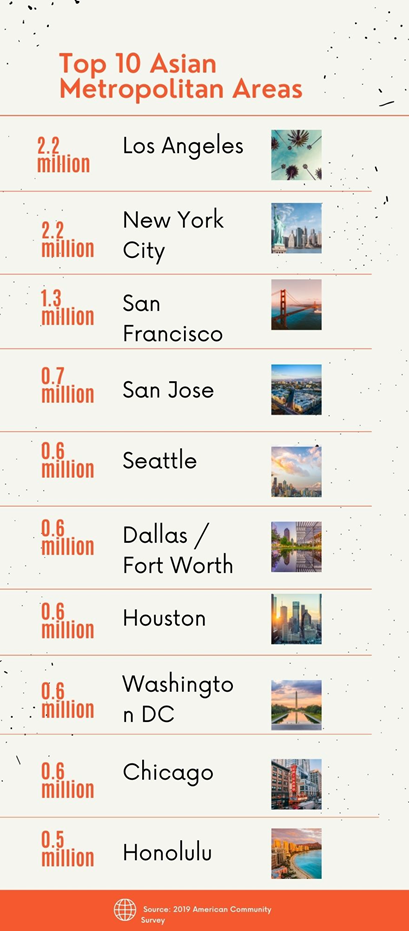 The top two countries fuelling immigration to the United States are India and China.
The Asian American Community & The Economic Opportunity
With a collective purchasing power of $1 trillion, Asian Americans have the greatest household income of any racial group in the United States.
If Asian Americans formed their own country, they would have the 17th greatest GDP in the world, with a greater economy than Switzerland, Turkey, and Saudi Arabia.
South Asian Indians lead the pack among Asian sub-segments, having the highest median income.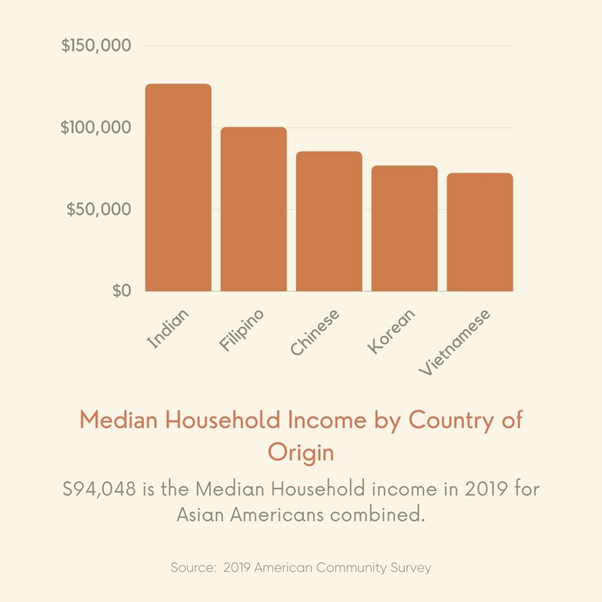 Because of their longer life expectancy, Asian Americans enjoy an average of 51.3 years of purchasing power, compared to 40.2 years for the general population. 43% of Asian American households earn $100,000 or more (vs. 28 % of the overall U.S. population.)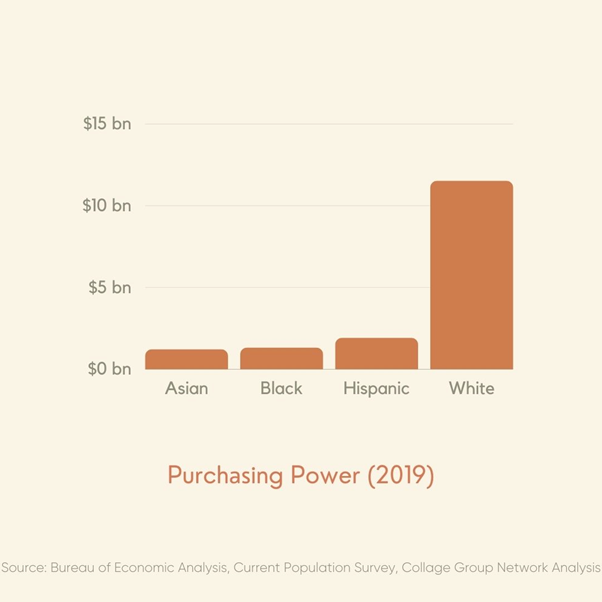 There are 19 million Asian Americans in the United States (Source: 2019 American Community Survey). In comparison, the black community has 41 million people and the Hispanic group has 60 million people. Thus, it is evident that when it comes to purchasing power, Asian Americans punch beyond their weight.
While some Asian Americans earn more than others, there remains a gap within the Asian American community. Moreover, COVID-19-related hotel business shutdowns increased Asian American unemployment from 2.5 percent in February 2020 to 13.8% in June 2020 (a more than 450% increase).
Because Asian Americans are so diverse, it's tough to pinpoint a distinguishing factor that sets them apart. There are various income and education levels, as well as varied habits and values. What is indisputable however, is that Asian Americans' overall purchasing power has considerably surpassed other demographic groupings over the last 20 years.
Asian Americans Are Tech Trendsetters
Asian Americans are the most digitally connected consumer group and set the pace for consumer tech usage in the US.
-97% own a smartphone
-99% have Internet access at home
-89% own a personal computer.
-In the last year, 87% of Asian Americans have made an online purchase (a rate 22% higher than the overall population.)
-23% of Asian Americans work in the scientific, technology, engineering, and mathematics related industries (vs. 12% of the total population.)
-Asian Americans are 96% more likely than the general population to have purchased computer hardware or software online in the previous year.
The Asian American Community Thrives When It's Connected
Marketers can communicate with customers in a variety of ways, but when it comes to Asian Americans, marketers should focus on digital platforms.
The Asian American community is close-knit and very well connected. Asian Americans are also more likely than the general population to own a range of devices, allowing them to stay connected at home and on the move.
Because Asian Americans are so connected, their overall reach of internet-connected devices is 22% more than the general population. Asian Americans, for example, are 21% more likely than the general public to view a movie on a computer and 24% more likely to utilise social media networks on a computer.
Given this demographic's connected lifestyles, it's no wonder that Asian Americans use internet-connected products at a higher rate than the average U.S. consumer. It's also worth mentioning that traditional media, such as television and TV-connected devices, has a lower reach among Asian Americans than it does among the entire public.
Screens, Services & Their Reach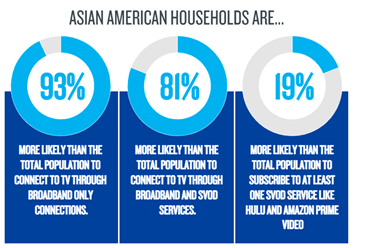 Screens across devices are essential touchpoints for marketers to connect with engaged consumers, in addition to offering consumers an ever-expanding array of content possibilities.
When it comes to advertising preferences, Asian Americans believe that mobile and web ads deliver the most significant messages about what other customers are buying, where the deals are, and what new items and services are available. The Internet is a wonderful way to get information on products/services they contemplate purchasing. This is according to an overwhelming 91% of Asian Americans. However, advertising isn't the only way to reach out to this demographic. When marketers consider their media options, they must consider both earned and paid media to deliver their brand messages.
SOCIAL MEDIA ISN'T JUST FOR MEMES
Given their obsession with technology and smartphones, it's no wonder that Asian Americans outnumber the overall population when it comes to using social media during their purchase path.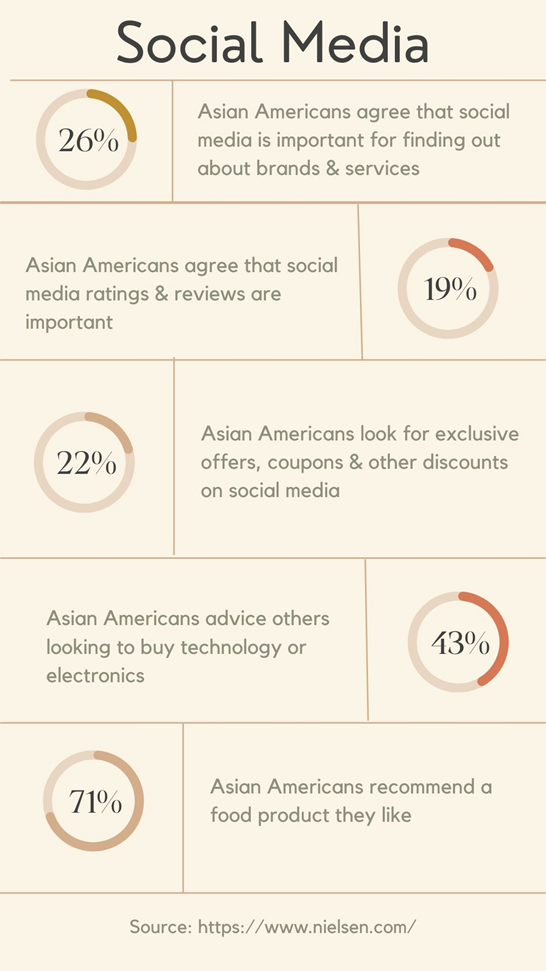 Asian Americans are willing to use their voices to provide feedback on the items and services they purchase, owing to their love of social media. In fact, they are 9% more inclined than the overall public to share their thoughts on items and services by submitting reviews and ratings on various social media platforms.
They are also 6% more likely to be approached to provide feedback to others who are thinking about making a purchase. Furthermore, Asian Americans are influencers who are 21% more likely to utilise social media to support businesses and brands.
The Asian American Identity & The Importance Of Cultural Traits
Almost three-quarters of Asian Americans believe that their race is an important part of their identity. For many Asian Americans, the events of 2020 highlighted the importance of racial identity.
Brands use cultural traits to broaden their reach and strengthen their bonds with customers. Cultural traits allow brands to include cultural nuance in general marketing while enhancing the effectiveness of targeted initiatives.
Authentic Creative – Make sure that as a marketer, your creative and messaging efforts resonate with the real experiences of your customers.
Extend Reach – Examine cross-segment opportunities to expand reach via shared traits.
Increase Connection – Determine where brand positioning and customer attitudes can intersect.
Let's now look at the 2 types of cultural traits marketers should be aware about:
1) Cultural Attributes Of Asian Americans
a)Rootedness – A proclivity to cherish and incorporate culture and tradition into one's identity.
b)Adventurousness – The willingness to seek out and attempt new things is referred to as adventurousness.
c)Exceptionalism- It is the tendency to regard oneself as important, interesting, and one-of-a-kind.
d)Anxiety – It is characterised by apprehension and concern about one's life and future results.
e)Independence – The proclivity to think and behave according to one's particular ideals and convictions.
f)Compliance – Asian American individuals with a high level of compliance tend to obey regulations and social standards.
2) Group Traits Of Asian Americans
The following are the four Group Traits that best characterize the Asian American segment:
a) Duality
Cultural Duality expresses the sensation of being both "American" and identifying with another culture or background at the same time.
b) Traditionalism/ Conventionality
People who share the group trait of conventionality tend to aspire to tried-and-true lifestyles and views about what people should do in general situations.
c)Reservedness
Groups that display the group trait of reservedness are more private and less willing to convey what makes them distinct, special, or interesting.
d)Expertise-Seeking
People with this trait seek assistance from experts – or sources of expertise.
How Brands & Marketers Can Shape The Asian American Landscape & Grow With Purpose
While a commercial with a token Asian model may have sufficed in the past, there is a growing need for individual recognition in the Asian community. Through advertising, brands and marketers can assist Asian Americans, other ethnic minorities and people with different beliefs, in telling their stories.

The resulting words and visuals should give a sense of what makes them distinctive, and it is this authenticity that will inspire trust and purchase intent: 64% of individuals stated they are more trusting of brands that depict diversity in advertisements; there was a 23-point increase in purchase intent after viewing an inclusive commercial.
The consumer value connection is another example. Playing things safe is sometimes riskier than taking a stand. Because a brand did not reflect their ideals, 53% of ethnic minorities stopped purchasing from it.
Brands that help people and build trust with their customers provide a strong chance to build partnerships. It's about gaining the right to be more integrated into people's lives, much like a trusted and beloved buddy who says, "Stop the Asian hatred."
In Summary
There is a chance for marketers to not just acknowledge the value of the Asian American audience, but also to grasp its nuances within the community. This includes the significance of defining common values.
Consider whether your brand represents a new Chinese immigrant. This could be a need to be recognized, manifested. For someone of Asian heritage born in America, or those with mixed roots, it might be the duality of eating dumplings at home while sharing a burrito with friends, Asian Americans have substantial purchasing power, therefore businesses cannot afford to disregard this important group. Asian American consumers now exert an outsized influence on the U.S. business world, thanks to their rapid growth rate that outpaces all other ethnic groups. Businesses are also seeing an increased desire for real brand representation.