The path to purchase, also known as the consumer journey, depicts how individuals shop as a series of events in which demand is linked to what consumers actually buy. For many years, the path to purchase, for the Asian American consumer, was regarded as a straight line. It's anything but straight these days.
Brick-and-mortar stores remain an important stepping stone in the Asian American path-to-purchase. But they're intermixed with a plethora of other experiences that have created something of a circular path-to-purchase for this increasing and economically prominent group of consumers.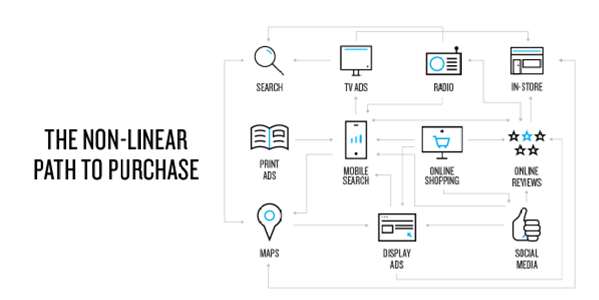 Source: https://www.nielsen.com/
The Evolving Demographic
Within the Asian communities in America, there is a huge generational shift: 80% of Asian Americans aged 35 and older were born outside America, compared to only 34% of Asian Americans under 35. While remaining tied to their distinct cultures, an increasing proportion of Asian Americans speak English fluently.
The Household & The Purchase Path
Asian American homes are 17% larger than the average U.S. household, with more children and generations living together, which influences not only their purchases but also their consumer journey. These larger households also contribute to a higher mean household income ($94,048).
Discovery Starts Online
Ninety-nine percent of Asian American households have internet access (compared to 93% of the entire population). Asian Americans have a 16 percent larger overall reach of internet-connected devices, with video on computer and social networking outperforming by 19% and 14%, respectively. When it comes to gathering information on products and services before making a purchase, 91% of Asian Americans say the internet is an excellent place to start.
The Television Connect
Asian communities in America spend approximately 23 hours per week watching TV and are at the forefront of the broadband and SVOD connection movement: 18% of Asian American households are "broadband alone," while 17% are "broadband only" plus a subscription video on demand (SVOD) service (over-indexing against the total population by 81% ). 81% of Asian American homes have at least one subscription to a video-on-demand (SVOD) service, such as Netflix, Hulu, or Amazon Prime Video (19% higher than the total population). Asian Americans have significantly varied genre tastes than the broader market, as well as very variable preferences between Asian Americans of different age groups themselves.
Passionate Consumers & Reviewers
Asian Americans are avid reviewers and are enthusiastic about sharing their thoughts on items and services: 74% check internet reviews before making a purchase, 71% recommend food products, 68% recommend automobiles, and 43% are eager to give their thoughts on technology. Building loyalty among these outspoken customers can increase awareness and publicity for various brands.
Connectivity & Commerce
Asian Americans are the leaders in online shopping, purchasing at a 34% greater rate than the general population. Asian Americans are crafting a diverse future of connectedness and e-commerce. This is armed with a broader range of foreign shopping, news, music, search, and social-media platforms as a result of cultural linkages with their nations of birth.
A Path To A Higher Purpose
Asian Americans are worried about the environment and the well-being of their families: 52% are prepared to forego convenience in exchange for an environmentally safe product, and 57% choose natural items because they are concerned about the environment. Furthermore, 54% are more likely to buy goods that promote a cause they care about.
In Closing
Asian Americans are redefining the American purchasing path, bolstered by their role as trailblazers in internet connectivity, e-commerce with a global perspective, and holistic perspectives of diet and consumption.
Asian Americans' impact is ubiquitous across a wide range of categories, as their sphere of influence extends far beyond the Asian American community. Insightful marketers who grasp the thriving influence of Asian Americans will be the first to gain from this exceptional opportunity to drive relevance and future growth.

Given Asian Americans' disproportionate effect on the 'path to buy' in the United States, Digital Crew can help make it simple. We are a Chinese digital marketing agency that enables your business to stay at the forefront of fulfilling the requirements of the new American mainstream—a younger, more varied, and multicultural mainstream.