Due to the COVID-19 situation, since the international borders are still not easily accessible, you can target a mass chunk of consumers by targeting the Asian Americans and Asian Canadians.
Digital Crew ran a webinar 'Why Savvy Brands are Targeting Asian Americans & How You Can Too Using Online Platforms' with influencer Christina Jang-Lee and Anita Lee (US General Manager, Digital Crew).
The webinar went live on 10th September 2020. Being an easy-going, conversational type of webinar instead of a traditional one, there were discussions that brands could benefit from. The webinar threw light on why you should consider the Asian American market and what is its scope across different industries such as education, fashion, beauty, and luxury goods. Also, as the title of the webinar suggests, Anita and Christina also shared how a company can target Asian Americans using specific online platforms.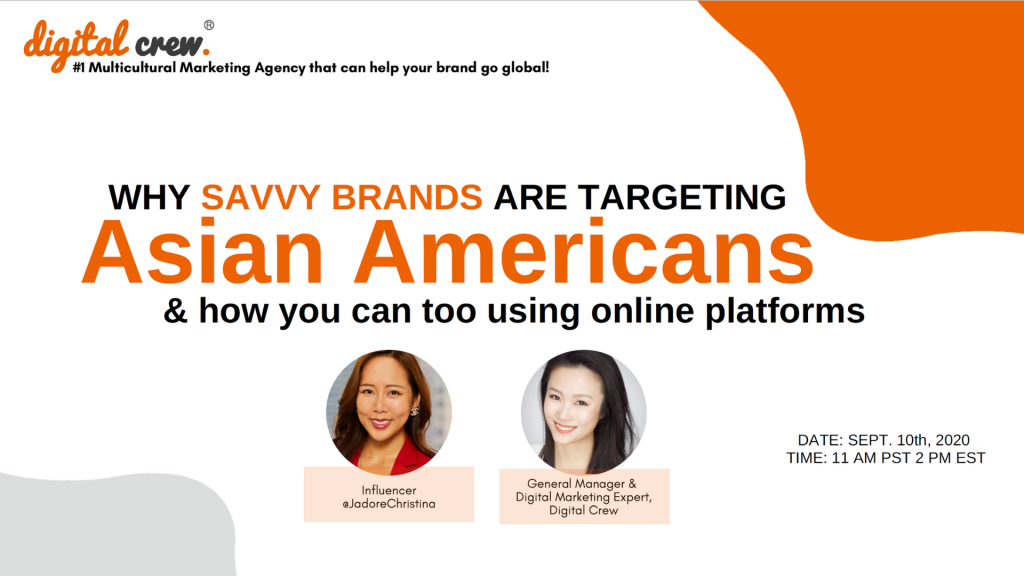 Here are a few takeaways from the webinar:
Asian American/Asian Canadian is a huge community with higher income and higher educational backgrounds. It is also the fastest growing consumer group in North America. The average annual income is US$85,000, which is huge as compared to the average American's annual income which is US$60,000.
The depiction of Asian Americans in the mainstream media is getting more prominent. Earlier Asian Americans were shown as karate players, cab drivers, geeky students or workers in convenience stores or restaurants.
Even though Asians come from different countries, over a period, what they experience in America is similar. Which means, it is one unified culture. This gives a great opportunity for marketers to target one chunk.
Asians can be seen in the gaming industry as a lot of Asian players and Asian influencers can be seen dictating what is trending and what is not.
Even considering the beauty industry, the K Beauty and the J Beauty are popular.
ONLINE PLATFORMS TO TARGET ASIAN AMERICANS/ASIAN CANADIANS
The platforms that the brands can use are the big social media platforms such as Instagram, YouTube, Facebook, Twitter etc., but along with that, WeChat and Little Red Book for targeting the Chinese staying in America and Canada. As even though the Chinese are now staying in America or Canada, their families and friends are still back in China and they choose to stay connected with them via WeChat and Little Red Book.
WeChat's business function is very useful for brands wanting to target consumers and the Little Red Book started out as a review sharing platform but now has e-commerce functionality.
Can you register a WeChat Official Account or an account on the Little Red Book if your company is not registered in China? The answer is yes. You can do so by using your own paperwork of your company registered in America.
HOW DIGITAL CREW HELPS BRANDS TARGET ASIANS LIVING OVERSEAS
Asians have inherited the need to do better and pursue higher education so universities and educational institutes target Asians to have more students enrolled into their curriculum. Digital Crew helps universities to target Asians. (For their client, Austrade, Digital Crew targeted Chinese students and their parents living in China. They released a video wherein Chinese students spoke about their experiences of studying across different Australian universities.)
Likewise, to promote the brand, Oroton, Digital Crew's Australian fashion client, approached Chinese Australian influencers to live-stream on Little Red Book. The outcome was fruitful.
To sum it up, here are three pointers for any business wanting to target Asian Americans/Asian Canadians:
Having an intricate understanding of the community and delivering culturally relevant content. It is advisable to partner with a Chinese digital marketing agency if you are looking at targeting the Chinese, for instance.
A study by Nielsen shows that using Asian influencers to promote the brand while targeting Asian Americans creates a positive outlook for your brand as the consumers find familiarity. Not just among Asian Americans, but even the general consumers are aware about your brand as Asians are gradually getting their position on mainstream media.
Using relevant platforms such as WeChat and Little Red Book to target the Chinese. Or paying close attention to where the Asian American community is hanging out, such as events, restaurants etc.
WATCH THE WEBINAR RECORDING
Watch 'Why Savvy Brands are Targeting Asian Americans & How You Can Too Using Online Platforms' webinar recording:
WANT TO TARGET ASIAN AMERICANS/ASIAN CANADIANS?
Contact Digital Crew today! We are a multicultural digital agency with offices across USA, China, India, and Australia. We help brands Go Global by being Multi-Local in Chinese, Japanese, English, Hindi and more.