Little Red Book In China Is Exploding With Retailers And New Users
The Little Red Book in China is not little anymore. Little Book Or Xiaohongshu is one of the fastest growing mobile platforms. According to its co-founder, Qu, the number of monthly active users between the end of 2017 and the middle of 2018, reached 30 million. The total number of registered users doubled between May 2018 and Jan 2019. Xiaohongshu users are predominately young and female; a significant part of them are living in China's first and second-tier cities. As a matter of fact, they are getting even younger, "70% of newly registered users were born after 1995." Said Qu, founder of Xiahongshu in an interview in 2017, "and in addition, the user base is also slowly stretching into the lower tier cities."
Although Xiaohongshu describes itself as a content-oriented social platform, it has already become a hybrid of social media and e-commerce. On June 6, 2017, Xiaohongshu held a shopping festival to celebrate its fourth anniversary and the sales revenue exceeded 14 million USD in only two hours.
How Can You Get Started On Little Red Book In China?
1. Create Your Official Brand Account And Store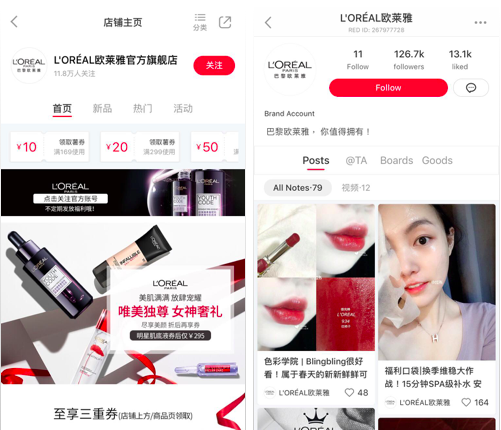 Businesses can open their own official brand accounts to enhance the brand experience. Companies then need to submit various documents such as business registration for verification and depending on the product category, required documents can be different.
Little Red Book users in China can browse the "notes" the brand posted;
It also shows the posts from other users when they mentioned (@TA) the brand in their own notes, this feature helps to strengthen the relationship between the brand and consumers;
If the brand's products are also available on Xiaohongshu's marketplace, consumers can simply click on "Products" to browse the list of goods. From the product description, consumers can directly go to the brand's Xiaohongshu store
2. Start Posting Original Content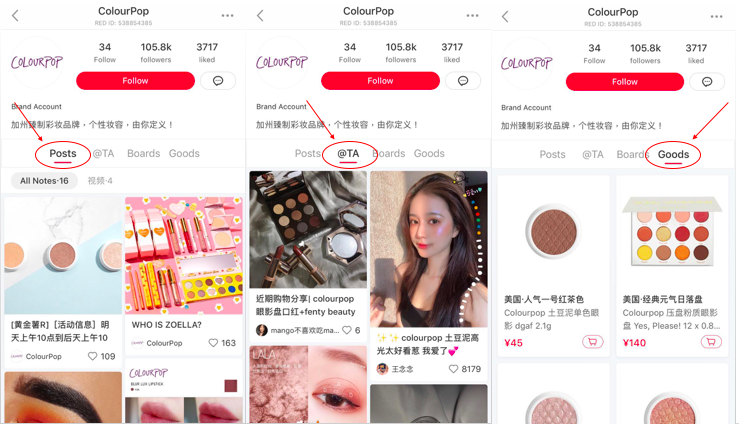 The little red book in China is a content sharing platform and if you want your product to grab the necessary eyeballs so you'll have to work on the content. You can begin curating notes, texts and also add short videos to the notes for potential users to quickly gauge the characteristics of the products. On the brand account interface, you can see "Posts", where businesses can create their own articles, such as information about new product launches, promotions and deals, or testimonials to engage with fans.
American cosmetics brand #Colourpop officially launched on RED shop last year, soon it became one of the hottest cosmetic brands with over 105.8k followers.
3. Get In Touch With Xiahongshu KOLs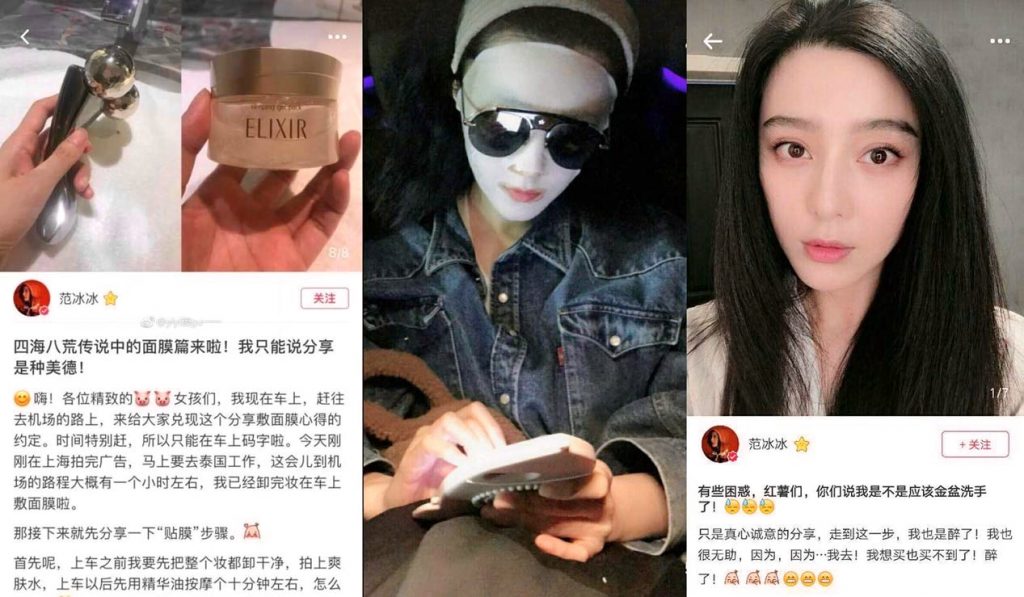 Working with KOLs is crucial in China since Chinese consumers rely on the opinions on KOLs more than "official" ads and that makes a positive word of mouth more impactful in China than in the West. If you decide to collaborate with a KOL, find the right person, whose image is compatible with your brand and whose followers are your target groups. The simplest way to reach out to a KOL is by sending them free samples of your product for them to try out and post a positive review about it.
4. Create A Community
Everything is dominated by the community, which is the core competitiveness of Xiaohongshu. In fact, on Weibo, Taobao also has a lot of net red goods, such as Zhang Dazhao, Sydney and others. But compared with other social platforms, Xiaohongshu has more user loyalty. Users who use Xiaohongshu will not only be taken by other people's notes but also will continue to release new notes and participation after their use of the products.
5. Take advantage of their sales campaigns
XiaoHongShu organizes regular sales campaigns to boost sales on the platform. Stores and brands can sign up to participate in the events. There are several occasions for which XiaoHongShu will launch platform-wide discount activities, such as the Single's day shopping festival (11th Nov, Double 11) and XiaoHongShu Anniversary (6th June) which is soon approaching, so go forth a launch yourself on the platform as soon as you can!
Conclusion
Xiaohongshu is a quickly growing marketplace that focuses on products like apparel, cosmetics, nutrition foods, accessories, and brands that are appealing to young female buyers.
It's not a pure E-Commerce website, but rather a lifestyle community where users and influencers post pictures, videos, and information when using products. Buyers place their trust on the platform and the success of your sales success relies heavily on positive reviews from users or influencers (KOLs). Xiaohongshu forbids companies from trying to hard sell products, with an obvious goal to profit from its users so If you plan to sell on Xiaohongshu, you have two different options: they either pre-purchase products directly from you, or you open your own shop.
Would You Like To Know More About Launching Your Store On The Platform?