The rapid development of technology in China has not only changed how people shop, travel, and work, it has also changed how people learn. China's online education market is expected to value over 5400 billion RMB (USD$77.23 billion) by 2022. It was estimated that the scale of online learners in China would reach 296 million in 2020. With the uncertainty of the coronavirus outbreak, China's Ministry of Education has encouraged schools to use internet platforms as an alternative way of teaching students amid the suspension of the new semester, driving the projected 16 to 24 per cent annual growth in the subsequent three to five years even higher.
Publicly available information shows that there are over 220,000 enterprises in the market of online education in China. Over half of these companies were set up within the past one to five years. The following five platforms are especially popular among Chinese users.
VIPKID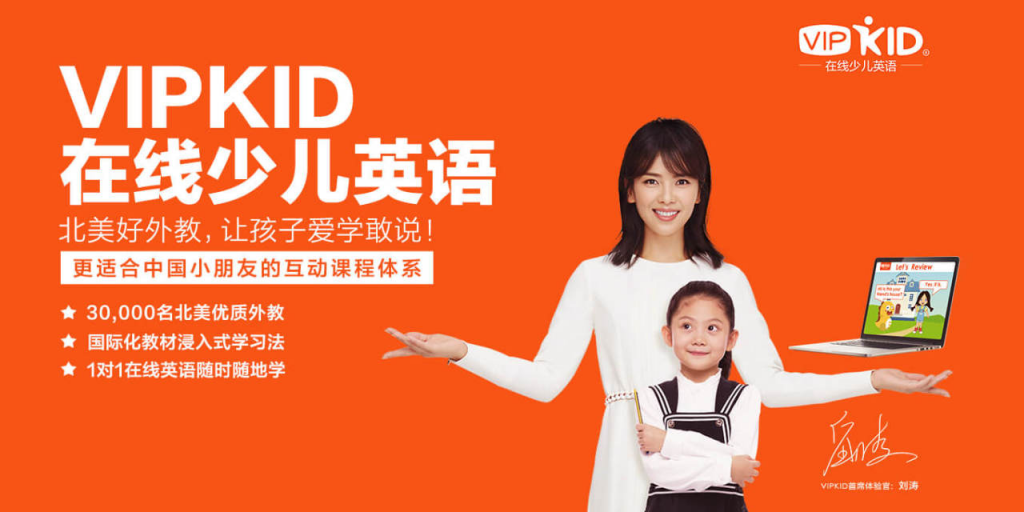 Founded in 2013, VIPKID is an online teaching and education platform based in Beijing. Valued at more than $3 billion, VIPKID is one of the largest online English tutoring companies in China.
VIPKID's target audience is Chinese children between the age of four to 15. All of its teachers are based in North America and must be certified by the company before teaching on the platform. It matches over 65,000 teachers with more than 500,000 Chinese students for real-time one-on-one English immersion learning. It is estimated that the student-retention rate of this platform is around 95%. In 2018, VIPKID signed a strategic cooperation agreement with World-Renowned Education Publisher Houghton Mifflin Harcourt (HMH) to bring in premium English content, making it the first online education platform to get full access to HMH's K12 curricula.
Zuoyebang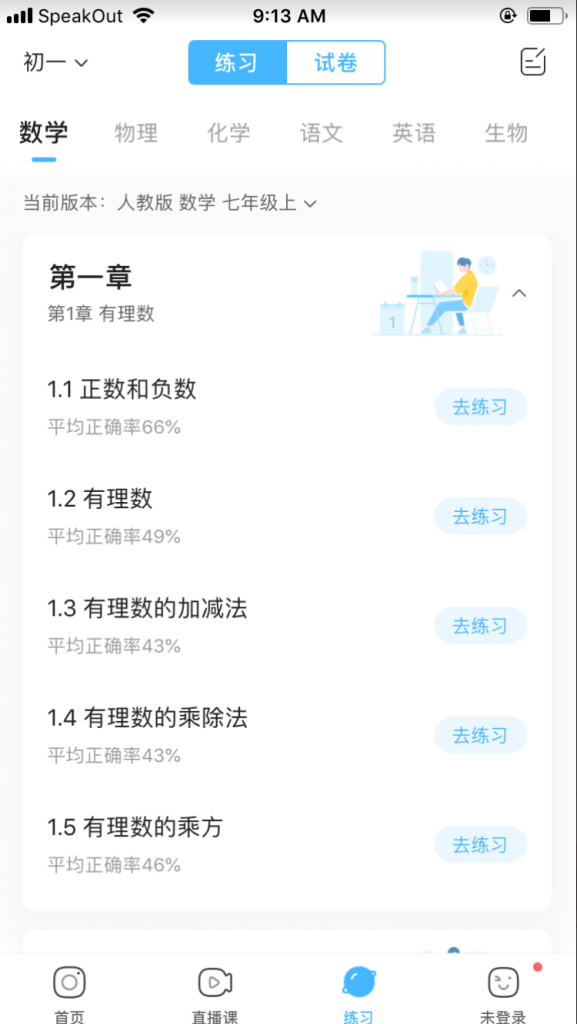 Founded in 2014, Zuoyebang is another online education platform popular among Chinese students and parents. The mobile based platform has 120 million active monthly users in China. While it also targets K-12 students, Zuoyehang provides a unique niche service where K-12 students can upload their homework questions and search for solutions.
The Baidu-owned startup started to operate independently in 2015 after it accomplished several rounds of fundraising. Goldman Sachs, Sequoia Capital China, New Enterprise Associates and other leading companies are all its investors.
Similar to its parent company Baidu's community-based Baidu Knows feature, Zuoyebang allows users to ask and answer questions. Users can choose their own education level and grade for customized content, which includes exam-oriented exercises and mock tests. Zuoyebang also allows users to upload a photo, which it will analyze and match to questions in its database. For questions whose solutions are not in the database, users can opt to pay for virtual one-on-one sessions with teachers that partner with Zuoyebang.
Gogokid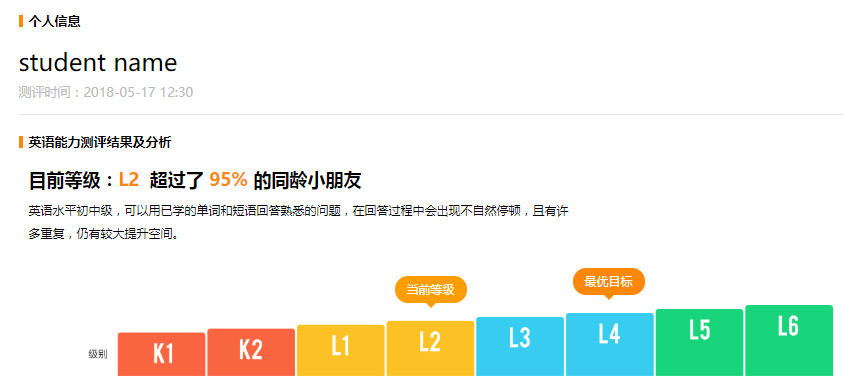 (a screenshot of learner's profile, source: 36kr)
Just as how it challenges established competitors in the social media market, internet giant ByteDance is also disrupting China's online education market. Although founded for less than three years, ByteDance's Gogokid, an one-on-one English learning platform for children aged between four and 12, has become one of the hottest online learning platforms among Chinese users.
A market research shows that in China, online subject-based tutoring is the main demand of K12 online education users. Among all the subjects, English and Math were the two most popular subjects. Since ByteDance is primarily a tech company that excels at algorithms, analysts predict that Gogokid will provide better targeted and customized subject-based content for users.
While hiring native speakers based in the U.S, Gogokid localizes teaching content and uses the Chinese standard curriculum through an AI-enabled virtual classroom. Each teaching session is 25-minute-long. The virtual classroom runs best in browser environments.
Dedao / iGet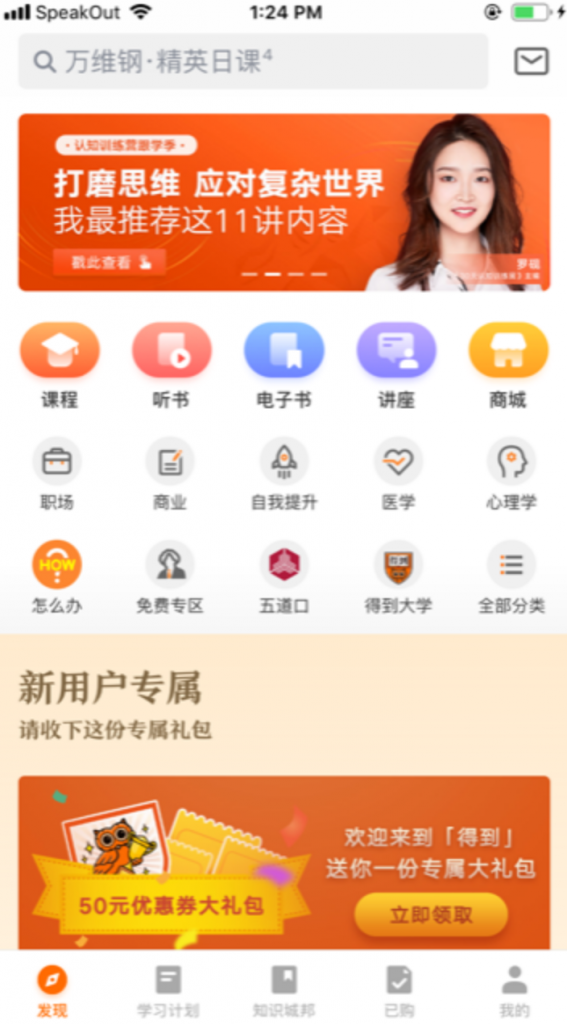 A leader in the paid content industry and online education market, Dedao offers live seminars and audio-based editorial columns from experts and leading opinion leaders in China. Granted, China's online education industry is geared towards K12 and middle school students, most of who were born after 1995 and even 2000. But with the increasing prevalence of massive open online courses, a growing awareness of intellectual property among Chinese netizens, and the convenience of mobile payments, more and more adults are looking to and willing to pay to equip themselves with more skills for career advancement.
Dedao represents a growing trend of China's online education market and the paid content industry: educational audio courses. Research shows that over half of the consumers of audio-based online learning courses are internet-savvy male who are keen to seek knowledge in their free time.
According to the the company's data, Dedao sees 20,000 new users every day and has sold over 1.44 million subscriptions of its services since it was founded in November 2015. Dedao's mission is to encourage users to read "a book a day, 365 books a year". It provides paying users with a library of popular books summarized into 30 minute, quality podcasts with transcripts. Users can buy online courses, e-books, audiobooks and other virtual products through "Dedao", or buy products through the physical mall of "Dedao."
Ximalaya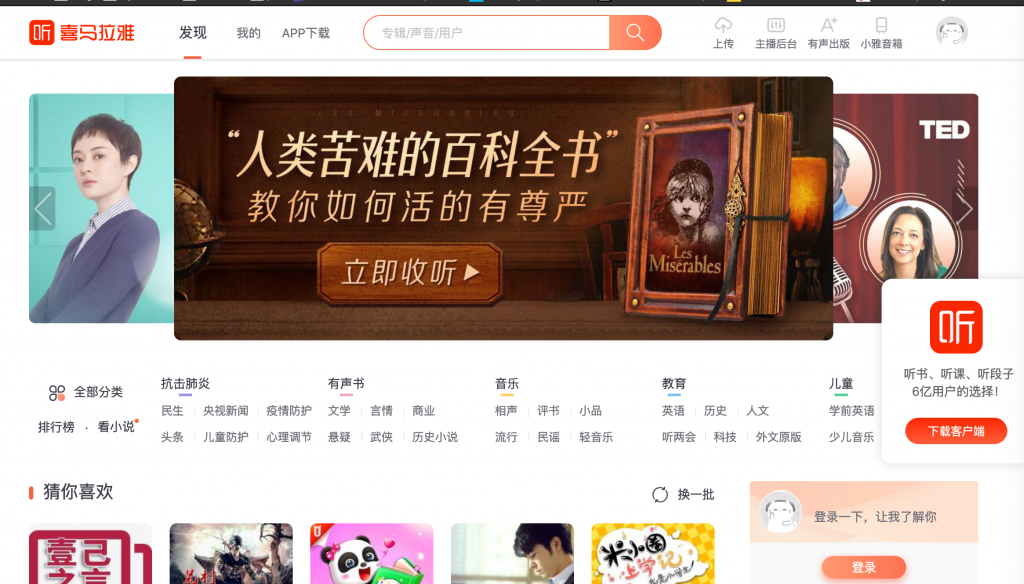 Another big name in the audio-based online education industry is the Shanghai-based Ximalaya FM service. Launched in 2012, Ximalaya now has over 500 million users, making it China's top podcast platform compared with rivals Lizhi FM and Dragonfly FM.
Available on the web and mobile versions, Ximalaya offers podcasts and audiobooks in a wide range of topics. The platform started to offer paid content in June 2016. As of early 2019, there were four million registered paying members on Ximalaya. According to a research firm, Ximalaya has more than 70% of the audiobook rights to the bestselling titles in China and 85% of adaptation rights for online literature. Users reportedly spend an average of 150 minutes a day on the app.
In line with the overall demographics of the audio-based online learning community in China, male users are the dominant users of Ximalaya. About a third of Xiamalay users are middle- and high-end consumers and over 44% of its users are based in China's most developed cities.
With over 300 million users in total, China's online learning market is expected to grow in 2020 and beyond. Chinese consumers also demonstrate more willingness to pay for content and knowledge, making this industry a big business not only for service providers but also for advertisers. These popular platforms provide an excellent venue for brands to gain users' attention, raise brand awareness, and build a connection with target audiences. Each platform has different advertising options. To know more about these options, talk to our specialists today and get a hands-on guide on how to start partnering with top online learning platforms in China.